YotaPhone E-Ink Dual Screen smartphone for Russia
If you happen to be one of the Android faithful that resides in Russia, it appears that a new kind of Android smartphone might be coming your way next year in the form of the YotaPhone E-Ink Dual Screen smartphone. A device that has apparently now reached the fully working prototype stage, and offers a similar E-Ink screen to that of the popSLATE iPhone 5 case that we have already reported on albeit not via a case.
According to a report by Engadget, the YotaPhone is manufactured by Yota Devices, which is a spin off from the Russian telecoms firm of the same name, and word is the YotaPhone sports a 4.3-inch LCD 720 x 1280 touch screen on the front with a 200dpi E-Ink display of the same size on the rear of the handset and both protected by Gorilla Glass.
The YotaPhone is Android based and will pack a 1.5GHz Snapdragon S4 processor along with a 12 megapixel rear facing camera, a 720p front facing snapper, 2GB of RAM, LTE connectivity, and a minimum of 32GB in expansion.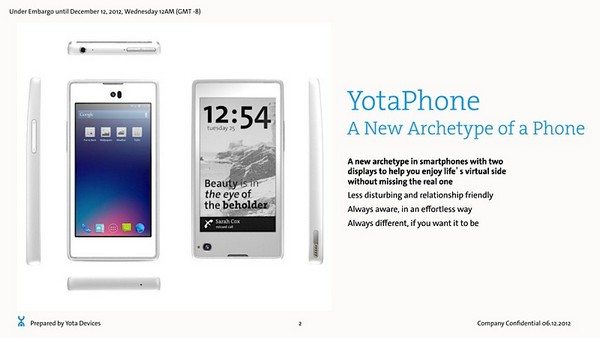 All this will be wrapped up in an under 10mm thick housing that weighs in at 140 grams along with a 2100mAh battery, and apparently will run Android Jelly Bean 4.2 on release.
Word is that E-Ink panel on the back of the YotaPhone will deliver the information through an open API that will enable the application to deliver appointments, playlists, books and the likes to that secondary display.
Furthermore Yota's pre-installed software will deliver notifications from the operating system, and enabled those notifications to remain on that rear display for as long as required without putting virtually any extra burden on the battery.
Apparently by splitting the labour this way the firm says it can raise battery life by some fifty percent, and still allowing such things as the time, notifications, messages and other info to always been seen at a glance, and also improving on readability in direct sunlight.
If everything goes according to plan the company expects to be able to deliver the YotaPhone (although it is not clear whether the device will release with that particular name) to hit networks in Russia sometime during the third quarter of 2013, and the company is apparently in negotiations with European and US carriers, but naturally at this time there is no word on how much the YotaPhone will command price wise.
We came across a view that shows off the YotaPhone and lets you know a bit more about the smartphone, which you can view by heading on down and mashing the play button…enjoy.