1Password version 4.0.2 for iOS Security
Remembering passwords can sometimes be quite difficult, especially if you have several different passwords to keep tabs on, so an app that could remember all your passwords for you and keep them secure would probably be a handy app to have. So if you own an iOS device then you might like to consider using the 1Password version 4.0.2 iOS app, which app maker AgileBits has now made available on the App Store.
The update to the password keeping application is an all new app that delivers numerous improvements such as new features, a revamped user interface and more, and enables the user to keep all their passwords safely tucked away behind a single master password.
The 1Password app for the iPhone, iPod Touch, Apple iPad and now optimised for the iPhone 5 and offers the ability to create use and edit many things including passports, bank accounts, credit cards, secure notes, and more along with organising your data into folders and the ability to mark your most used items as favourites.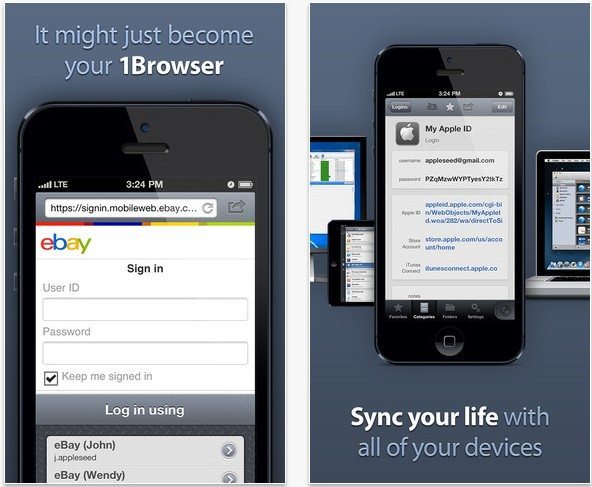 With the updated iOS app, the new version does away with the pin code lock and has replaced this with a master password much like the Mac application, whilst the in-app browser has been given a makeover so that it is faster.
When using the app it will allow the user to generate unique passwords for each service and site they use whilst storing data using military grade 256-bit AES protection. You can use the app to auto-fill credit card and address info as you shop online or pay your bills along with browsing multiple sites at once using tabs.
The 1Password iOS app now supports both iCloud and Dropbox syncing across all your iOS devices with no subscription or other fees, whilst being available in more than ten languages.
For those iOS users that would like to take advantage of what the 1Password version 4.0.2 app has to offer, you can download the application to your chosen iDevice running iOS 6 or above from iTunes where the application commands a price tag of $7.99.
However, it appears that those iOS users that have previously purchased the 1Password iOS app are somewhat annoyed that the company is making them pay another $7.99 for this new updated version, something no one really likes to have to do. 
Will any of our readers be purchasing this new version of 1Password, and if so does it annoy you to have to pay again just to keep up to date, or will you just stick with the version you already have?