BlackBerry 10 touchscreen keyboard video could win over diehards
The fact that RIM has an awful lot riding on the success of the upcoming BlackBerry 10 operating system and devices running it is no secret. We have had our doubts over the last months whether BB10 would really be enough to turn RIM's fortunes around but recent news has been more encouraging. In the last few days a leaked video has emerged showing a new L-Series phone and now another video shows the new touchscreen keyboard that looks as though it could win over diehards who have always preferred the physical keyboard.
We can't have been the only ones who have wondered if BlackBerry 10 would be too little, too late, to revive the BlackBerry name and give it a new lease of life but we're pleased to say that what we've seen lately gives us new hope, such as the first image of a BB10 smartphone that was teased by BlackBerry. This seemed to show a rather surprisingly sleek and stylish device and we also recently had news that Gold SDK's and BlackBerry 10 Dev Alpha OS updates were now available to developers, an encouraging sign that everything is on track.
The first video we have for you to look was leaked by Tinhte.vn, a Vietnamese website that also leaked some previous images of a BB10 phone. The tantalizing video shows a walkthrough of a BB10 L-Series device, dubbed the London, that features a microSD card slot, NFC, 1800 mAh battery and rear camera with LED flash. You can see the video below this story. BGR also states that the L-Series device is rumored to have a dual-core processor, 4.2-inch display with resolution of 1280 x 768, 1GB of RAM and 16GB of internal storage and this is the device that we expect to see at the big January 30th event where BB10 will be unveiled to an expectant public.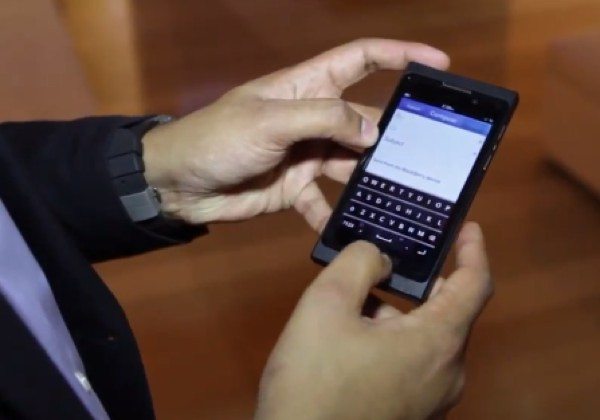 Yet another video (that you can also see below this story) has been produced by BlackBerry showing the new touchscreen keyboard. For many BlackBerry device enthusiasts the physical keyboards have been one of the main attractions and there are plenty of current BlackBerry phone users who will resist the change to a touchscreen keyboard. However after taking a look at the video many may change their minds as this does look amazingly good.
The BlackBerry video shows Head of Software Portfolio Vivek Bhardwaj showing the capabilities of the touchscreen keyboard. The design of it has been carefully thought out to recreate the look and feel of the customary BlackBerry physical keyboard and even has frets between key rows. The way it handles looks pretty incredible and it's more intuitive and also personalized so that for example it will retain words you use often in your own vocabulary to suggest in future. Another feature is its ability to automatically work out where to add spaces between words (useful for those in a hurry) while another useful extra is that it can also switch effortlessly between languages.
We really like what we're seeing from these videos (see below), regarding both the look and design of a new BB10 smartphone as well as the very intelligent keyboard functionality, but we'd like to know what you think. Maybe you will stick resolutely to your Android or iOS device and nothing will change your opinion now about owning a BlackBerry device? Perhaps though you are already a BlackBerry enthusiast and think that BB10 and devices running it could really be the turnaround that RIM is looking for? Let us know with your comments.