BlackBerry 10 first smartphone image teased, looking real good
We're getting closer to that January 30, 2013 event date when the new BlackBerry 10 operating system will be fully revealed to the world. We've posted many times now about BB10 and it's no secret that RIM has a whole lot riding on the successful launch of the OS and the devices running it. Today we've seen a brief glimpse of the first smartphone that will release running BB10 and we have to say that if this is a taste of what's to come, it's looking real good.
RIM has very much put all its eggs in one basket with BlackBerry 10. The ailing company needs regeneration and quickly, if it is to revive its fortunes and that's why BB10 is so crucial. As we get closer and closer to the unveiling we are seeing more news come out and just recently told about a video demo of the camera that will be used on one of the new BB10 smartphones. We also recently told how despite hopes that the first devices running BB10 might be released to coincide with the event or very shortly afterwards, there is speculation that the first device may not arrive until March, followed by the first QWERTY BB10 handset in June.
Now as a further teaser while we wait RIM has issued an image of what will be the first BB10 'London' phone on its website, that it describes as "laptop-killing." That's a big claim but as far as looks go we'd say this is definitely one very good-looking handset, better than we anticipated and with a really classy finish. From the image it appears that the rear of the phone has a textured finish that should make it easy to grip and will feel good in the hand and BGR points out that it appears similar to the reverse of Google's Nexus 7 tablet, which has a superior feel.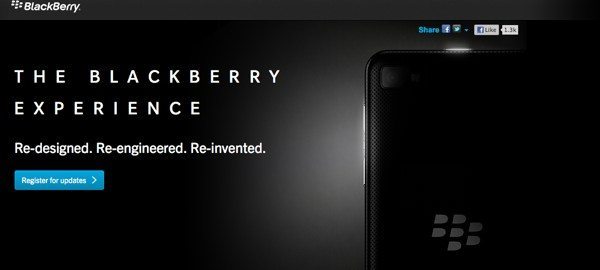 Although RIM hasn't chose to share any further information on the phone the photo is encouraging to see and for the many people hoping for a BlackBerry revival it should be heartening. We're really interested to hear what you think about the image (above). Although it only offers a hint of the whole first phone does it inspire confidence in BB10 from you? Let us know with your comments.