Must See StandScan Smartphone Portable Scanners
If you happen to use your smartphone either at home or in the office to scan documents, images, certificates, receipts and the like rather than using a scanner, but would like to scan things anywhere without getting fuzzy images due to handshake or distorted angles, then you might like to consider the StandScan portable scanners for smartphones, which can be folded flat to slip into your laptop case or bagpack.
The StandScan Smartphone Portable Scanner enables the user to scan important documents and the like when travelling, whilst enabling the user to photograph images of products to sell on the net or share pictures with family. Without any software to download, no cables to connect, and no drivers to install.
The StandScan can be used within seconds of getting the device, and once snapped into place all the user needs to do is place their smartphone camera over the hole in the top of the StandScan and begin scanning and photographing whatever you wish to scan, it is as simple as that.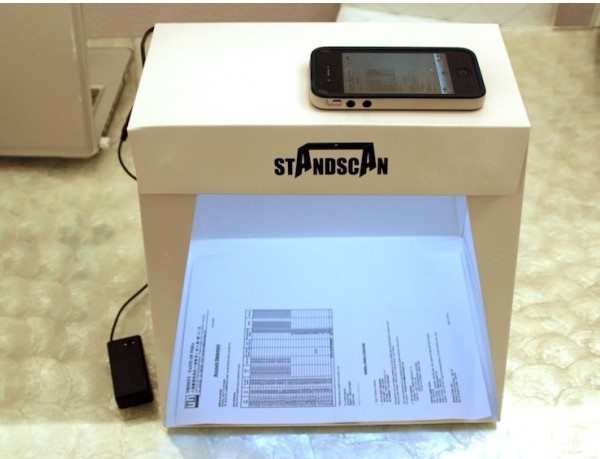 The device holds your handset steady so you receive crystal clear images, and features a bright white background, and if you require additional lighting all you need do is open the back panel, and once you have finished scanning the device is quick and easy to fold down and pack away.
The StandScan is lightweight and durable, and manufactured from laminated card with a matt internal finish so you get non-reflective images, works well during both day and night, measures 310 x 230 x 310mm with a weight of 250 grams, and is large enough to scan an A4 US letter size.
There are two version of the portable scanner available, the basic StandScan, and the StandScan Pro, which offers all the features as the basic model along with the addition of LED lights on the inside to deliver enhanced image quality, while eliminating distracting shadows, and comes with a 9V battery holder that has a built-in power switch, and can be connected to different power packs, a 12V battery pack that holds 8 pencil batteries, or a 12V power adaptor.
The StandScan is compatible with the iPhone including the iPhone 5, BlackBerry, Android, and any smartphone that features a rear facing camera, and if you are interested in the portable scanner device, the StandScan can be purchased from the StandScan website, with the basic model commanding a price tag of $19.95, whilst the StandScan Pro costs $29.95.