f0recast utility by iH8sn0w updated, supports iPhone 5 & more
For months now we have been waiting for news on an untethered jailbreak for the iPhone 5 and iOS 6 but the silence over recent weeks has been almost deafening. It's good to hear then that there is still work going on in the hacking community as proven by today's news that iH8sn0w has come up with an update for his f0recast utility tool, version 1.4. We have more details as well as a video about the f0recast update that you can view below this story.
Although f0recast isn't exactly on the level of Redsn0w or Sn0wbreeze when it comes to jailbreaking tool apps, the updated 4.1 f0recast app has plenty of uses and brings some changes and improvements. It can tell you if your device can be jailbroken, allow users to see SHSH blob availability on the Cydia TSS server, gives firmware list links for the device being used and includes an incorporated update checker.
Version 1.4 supports the latest iOS devices including the iPhone 5, the iPod touch 5th generation and iPad mini. Other new features include some changes to the UI and support for the latest jailbreaks showing devices concerned as well as whether the jailbreak is tethered or untethered. However for legal requirements f0recast 1.4 will not be able to check factory unlock status, according to iDownload Blog.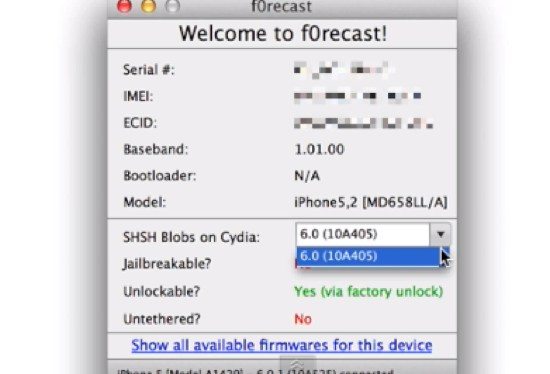 You can find the download link for the latest version of iH8sn0w's f0recast here where you'll need to scroll near to the bottom of the list to find it. We'll give you our usual caution that at Phones Review we can never recommend that you tamper with or jailbreak your devices and that if anything goes wrong it is entirely your own responsibility. However we do know that many of our readers are interested in the latest news on this so we like to bring you the information you need. Remember you can see a video below with news of the update showing what to expect.
News of the f0recast update is certainly welcome although it appears from comments to the source story that many people are still hanging on in the hope of an untethered jailbreak for iOS 6 /iOS 6.0.1 and iPhone 5. We can't see an untethered jailbreak happening anytime soon to be frank and in this respect you may also be interested in our story yesterday about iOS 6.1 beta 4 being pushed out to developers and how a developer jailbreak is already available. As we now seem close to a general release of iOS 6.1 we wouldn't be surprised if jailbreakers now hold on for the new release to come up with an untethred jailbreak for new iOS devices.
What are your thoughts on the update of f0recast and the new features that it brings? Are you still hoping for an untethered iOS 6 /iOS 6.0.1 jailbreak? Let us know with your comments.