iPhone Neo One by IGB in Brazil, hello lawsuit
Let's face it Apple isn't new to the game of defending their ownership of trademarks especially when it comes to other companies claiming they own such trademarks as iPad and iPhone, and usually in the end one way or the other Apple comes out on top when a lawsuit is handed down. And it appears that Apple might just have another branding lawsuit to fight out due to a firm in Brazil claiming they own the iPhone trademark.
According to a report over on iPhone In Canada, Brazilian firm IGB Electronica SA, has announced the launch of a new line of Android based smartphones but strangely enough with IPHONE branding, with the first of these devices known as Neo One according to a report on Reuters.
Apparently the Brazilian company was set up this year after a restructuring of Gradiente Electronica SA, who back in 2000 had apparently applied for the exclusive right in Brazil to register their gear under the IPHONE name.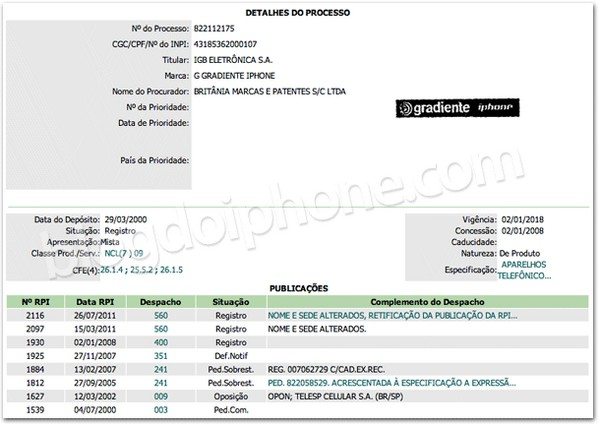 However it appears that the Brazilian patent and trademark office didn't agree with the company, as Telesp Cellular filed a notice of opposition in 2002 that the Brazilian patent and trademark office accepted. Apple then filed an application back in 2006 with the Brazilian patent and trademark office, which was accepted and thus Apple still owns the iPhone trademark in Brazil.
Apparently Apple patented both iPhone and IPHONE in the country and as such IGB Electronica SA only hold the rights to the G gradiente iphone brand only, which means of course if the Brazilian company continues to put out their Android smartphones under that IPHONE brand, no doubt Apple will be kicking their legal team into first gear to hit the company with a lawsuit.
To be quite honest, other handset makers should basically steer clear of naming their devices anywhere near what Apple names their tech gear, especially when it comes to the iPhone and iPad because everyone knows that those brands are Apple products, and brands that the company will defend no matter the cost.
You would think these manufacturers would have learnt the lesson by now considering how many times Apple has dragged companies into court over the same sort of thing, but obviously not and there are those that still want to capitalise on that famous branding, and only a long hard drawn out costly legal battle will probably get that point across, besides everyone should know that Android is not an iPhone.