Twas the Night Before Christmas best app choice
Christmas Eve is nearly upon us and families all across the world will be celebrating the festive season in different ways. One common theme for many people though is the traditional reading of the classical Xmas story, "Twas the Night Before Christmas," to spread the joy and magical feeling of the occasion with children and the rest of the family. With this in mind we thought that we'd give you details of some of the best apps, for both Android and iOS devices, for those that want to relate the story in a modern way.
We are just one family among many worldwide who still enjoy this time-honored tale at Christmas and it's now become as much a part of our Christmas as other customs such as the turkey dinner and watching the movie "It's a Wonderful Life." Without further ado then we'll give you some of the best app choices. Simply click on the title links to go to the relevant Google Play or App Store to find out more information or to download.
The first app we have for you is The Night Before Christmas by Fantom Apps. This is a free app and is suitable for devices running Android 2.2 or later. You'll find the original 1912 story of Twas the Night Before Christmas by Clement C. Moore and it's a highly rated app with illustrations by Jessie Willcox Smith.
Another Android app is Twas the Night Before Christma by Brindleware. This app is priced at $0.99 and is suitable for devices running Android 2.2 or later. Again it's the holiday classic of 1912, but as a talking book, and a portion of proceeds from this app go towards the Gutenberg project to provide electronic books for all. This latest version was revised on December 11 this year and is now faster loading and uses less storage.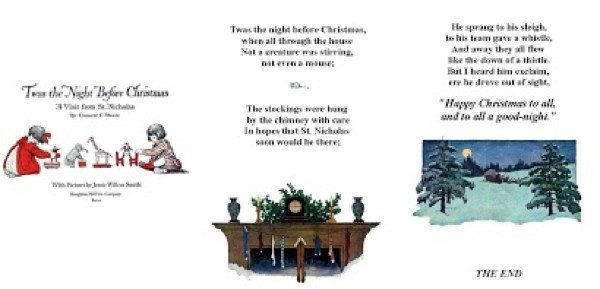 Another highly rated app is Twas Night 3D Before Christmas. This is an Android app by FlyingWord and is priced at $1.99 as a special offer for a limited time. As you would expect from the title this one is an interactive 3D pop up book app that you can see, hear and also touch. 3D pop up artwork is by Greg Hildebrandt and interactive features include touching Santa's belly to make him laugh, moving the reindeer to see the sleigh fly and touching the sugarplums to watch them dance. This one is for devices running Android 2.0.1 or later.
Onto some apps for iOS devices then and first we have Twas the Night Before Christmas — Christmas Edition by moglue. This is a free app and compatible with iPhone 3GS, iPhone 4, iPhone 4S, iPhone 5, iPod touch 3rd, 4th and 5th generation and iPad running iOS 4.3 or later. This brings the traditional story to the modern world as it's an interactive ebook with full-page illustrations, sounds and animation. Touching Santa and the gifts helps to interact with the story and a handy hint that is detailed is to try shaking or tilting your device to play with the stockings that are hanging up. This was updated to version 1.0.4 on 21st December this year bringing a bug fix and also new viewer.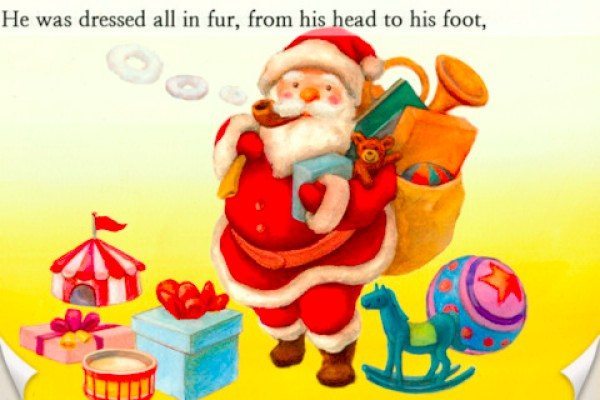 Another highly rated iOS app is Twas the Night Before Christmas Digital Book by Stories by Kathleen Marie. This is a beautiful looking app compatible with iPhone, iPod touch and iPad running iOS 3.0 or later. It features original illustrations by Jessie Wilcox Smith and really shows off this timeless classic. While you read you'll see animated snow on each page, evoking the traditional emotions of Christmas.
Finally if you're looking for something slightly different then there's Twas the Night Before Christmas by Moving Tales Inc. This is only for the iPad running iOS 6.0 or later and is priced at $3.99. It's a 3D animated version of the poem and could be described as slightly cheeky but playful. There is 3D animation on every page, three narrations to choose from, original music, the option to record your own voice to be played, animated surprises, and the ability to swipe or tap to turn the page. Watch out for Santa in a home dance routine! The latest version 1.2 brings stability improvements as well as enhanced compatibility with iOS 6. This app is also available at $3.99 for the iPhone and iPod touch at this iTunes link.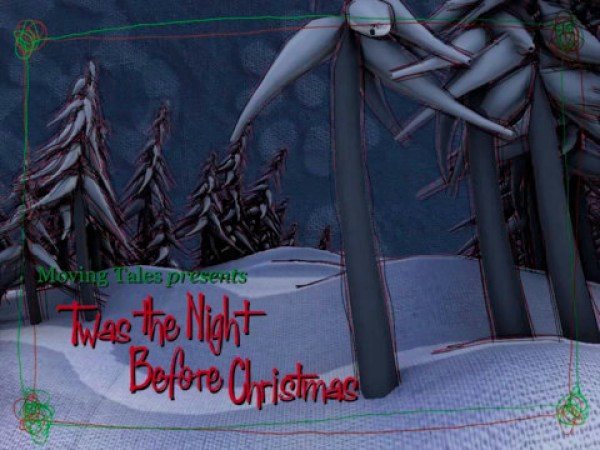 Hopefully with this choice of top apps you'll be able to find just the app to help you continue your tradition of Twas the Night Before Christmas on Christmas Eve, or maybe you're about to start a Christmas tradition of your very own! All that remains for us to say is 'Have a very merry Christmas!'