BlackBerry Z10 gets detailed and pictured
Everyone knows just how important BlackBerry 10 is to helping Research In Motion get back into the mobile game as one of the big contenders, and a couple of days ago we let our readers know that the word was the first of these saviour devices would probably be known as the BlackBerry Z10, and we have already reported that RIM claims BlackBerry 10 will have 70,000 apps available on launch. But what about that BlackBerry Z10 smartphone?
Well it appears some details on the specifications along with an image of the actual smartphone have been uncovered by Bbin.in, and they claim that the specs that have uncovered are the closest specs of the device, albeit some of these specs not 100 percent confirmed, whilst several of the specs have already been seen on the BlackBerry 10 Dev Alpha devices.
So here's what the BlackBerry Z10, a device that is expected to be unveiled at the end of January 2013, has to offer those BlackBerry faithful, the device is said to sport a 4.2-inch 1280 x 768, 356PPi, 15:9 ratio touch screen along with an 8 megapixel rear facing auto-focus camera, a 2 megapixel front facing snapper, and 1080p video.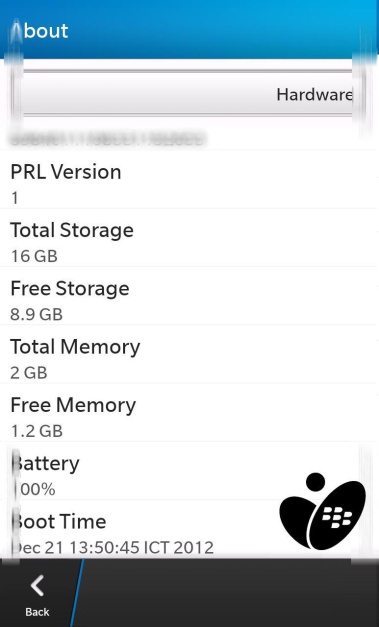 The first BlackBerry 10 handset is also said to sport a 1.5GHz TI OMAP 4470 dual core processor or a Snapdragon MSM8960 processor (Canada and the US), 2GB of RAM, 16GB internal storage, Wifi 802.11a/b/g/n, A-GPS, Bluetooth 4.0, NFC, hot swappable microSD slot, quad band HSPA+/UMTS 850, 900, 1700, 1900, 2100, quad band GSM/GPRS 850, 900, 1800, quad band LTE bands 2, 4, 5, 13, 17 (700, 850, 1700, 1900), microUSB, microHDMI-out, accelerometer, magentometer, gyroscope, face detect for calls, ambient light detector and an 1800mAh removable battery.
Apparently all those specs have been confirmed for the upcoming BlackBerry Z10 apart from those processors. The devices is said to becomes available in both white or black versions, and that's about it on the BlackBerry Z10 other than there is a rumour that the second BB10 handset will be known as the BlackBerry X10.
Of course as there is still a little over a month to go before Research In Motion unveils these new devices to the mobile space during a BB10 event in January, so it is possibly that the above can change by the time we actually get the official low down from the Canadian company.
Still, taking the above specs as gospel, what do our readers think of the BlackBerry Z10, does the handset capture your attention enough to want to own one?