Samsung Galaxy Note 7 GT-N5100 benchmarked again
A while back it was suggested that old Sammy was extending their popular Galaxy Note range of devices with the addition of a 7-inch Galaxy Note. A device going under the Samsung number of GT-N5100, which popped up in a NenaMark benchmark that delivered a few details on the supposed Samsung Galaxy Note 7, and now that same device has shown up in another benchmark.
Obviously the GT-N5100 is an unannounced Samsung device, and the devices has now shown up on GLBenchmark, reports Sam Mobile, which seems to confirm that the Samsung Galaxy Note 7 GT-N5100 will come out to play sporting a 1280 x 800 resolution display along with Android Jelly Bean 4.1.2 installed right out of the box and is powered by a 1.6GHz Samsung Exynos 4412 processor.
Of course those specs were revealed in the original benchmark of the Samsung device, and as such this new benchmark seems to confirm them as true, and that the Samsung Galaxy Note 7 will sport a resolution that matches the display of the Google Nexus 7.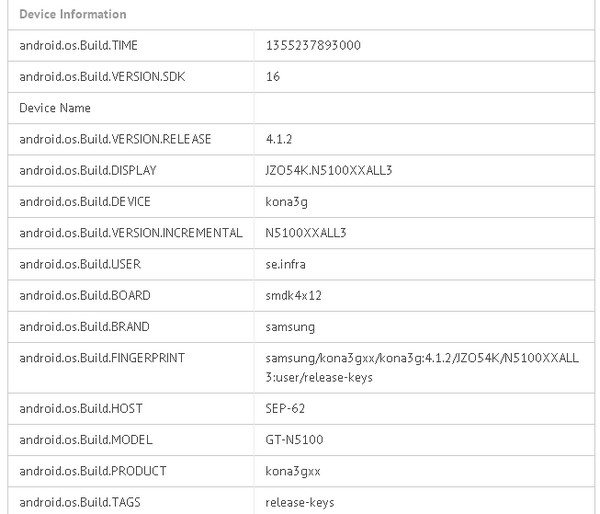 The 7-inch tablet arena is certainly a lucrative one, and there's no reason why Samsung shouldn't wish to grab a nice share of that market with a 7-inch Note device and take on the likes of the Nexus 7, Amazon Kindle Fire, and iPad Mini to name just a few.
However, it isn't clear at the moment whether old Sammy intends on unveiling the Samsung Galaxy Note 7 during CES 2013 in Las Vegas in January, or whether the Korean company might be keeping the Note 7 up their sleeve for Mobile World Congress 2013 in Barcelona in February.
Both Acer and Asus are expected to launch new Android 7-inch slates in the not too distant future, and no doubt Samsung will want to be not too far behind in getting their own 7-inch Note out to the mobile space to combat their rivals, so maybe, just maybe Samsung will show off the Samsung Galaxy Note 7 at CES, who knows.
Anyway, we'd love to know what out readers think about the possibility of the Samsung Galaxy Note 7, would you consider picking up the 7-inch tablet if the device came with the right price point, or do you feel there are enough 7-inch devices already out there?