iPhone 5 untethered jailbreak concerns as iOS 6.1 even tougher
We've been bringing readers news on an iOS 6 /6.0.1 untethered jailbreak for some time now, or should we say the lack of it. A few days ago we gave readers details of an interview with renowned iOS hacker pod2g and were slightly more hopeful that an untethered jailbreak could come soon, even if it meant waiting for Apple to release iOS 6.1 first. However it now seems there are further concerns as another renowned member of the jailbreaking community says that iOS 6.1 is going to be even tougher to jailbreak.
Many, many iOS users are waiting anxiously for an untethered jailbreak for their device with iPhone 5 owners chomping at the bit and there have been many twists and turns in the story with hoaxes and scams by the bucketload and sometimes false hope that a genuine untethered jailbreak was on the way. When iOS 6.0.1 was upcoming there was speculation that maybe work on the untethered jailbreak was being put on hold for this but there was still no news. A few days ago though we told how Apple had now released iOS 6.1 beta 4 for developers, thought to be the final build and therefore a public release for 6.1 now looks pretty close.
This led to further talk that an untethered jailbreak was again being put on hold, waiting for the 6.1 update to arrive, although the major names in the jailbreaking community have kept pretty quiet on this so far. When pod2g spoke out recently he was asked about the jailbreak for iOS 6.x and he said again that he was still confident that the jailbreak would come but when speaking of future iOS jailbreaks he seemed to feel that this would become more and more difficult to do at a timely speed because of the tighter security measures that Apple continues to put in place.
Many iOS jailbreaking fans were then given a glimmer of hope though when pod2g also stated that there was a big chance that he would work on the iOS 6 jailbreak again and had already spent some time on it. He also mentioned that there had been suggestions of waiting now for iOS 6.1 to release. As you might expect this gave plenty of waiting potential jailbreakers something to smile about instead of starting to give up hope completely but news today from another well known and respected member of the jailbreaking community asserts that 6.1 will be even harder to jailbreak.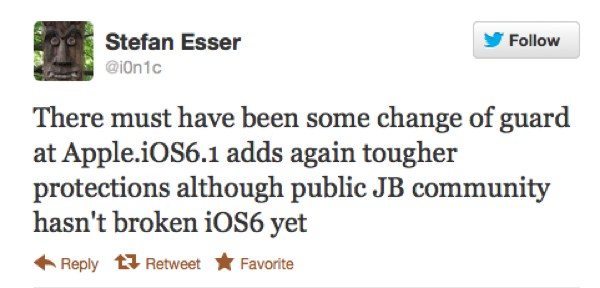 Many jailbreaking enthusiasts out there will have heard of Stefan Esser, aka i0n1c. He has just issued a tweet from @i0n1c talking about a change of guard at Apple and how even tougher protection had been added to iOS 6.1, despite the fact that the jailbreaking community hasn't yet managed to jailbreak iOS 6. Although this is not a huge statement it does pack a punch, coming from somebody so much a part of the jailbreaking community and who came up with the untethered jailbreak for iOS 4.3.2, as reported by iClarified. As well as this he was responsible for the jailbreak for the iPad 3 on the iOS 5.1so i0n1c certainly knows what he's talking about.
If you still hope to eventually jailbreak your A5 or A6 iOS 6 device then you may want to hold back on updating to iOS 6.1 when it comes, bearing in mind this rather gloomy news. As Cult of Mac reminds us, the "changing of the guard" that i0n1c alludes to is that iOS chief Scott Forstall recently received his marching orders and Craig Ferenghi who replaced him, seems to have even less tolerance of jailbreaking.
This will be a big blow to those waiting to jailbreak their iOS 6 devices but we need to remember that pod2g and others haven't yet given up on an eventual iOS 6 jailbreak, even if it doesn't exactly look close. However rather than waiting for iOS 6.1 it seems that was a red herring as it will be even harder to crack so remember, don't update to it when it arrives soon if you still want to wait for a jailbreak at some point down the line.
Here at Phones Review we always remind people not to fall for the various hoaxes and scam jailbreaks that are out there, often being charged for. As we've said before, the best way you can keep tabs on an authentic iOS 6 jailbreak is to follow the Twitter accounts of some of the old guard jailbreakers such as @pod2g, @MuscleNerd, @planetbeing and others including of course @i0n1c as well as the websites of the Chronic Dev Team and iPhone Dev Team. We shall, of course, be following developments with interest but we're pretty sad we haven't been able to bring you news on an authentic iOS 6 jailbreak just in time for Christmas. Hopefully the New Year will see all systems go on this.
We're always interested to hear from our readers and know from previous comments just how many of you are waiting to jailbreak your latest iOS devices. How do you feel about 6.1 being even tougher to jailbreak and i0n1c's caution on this? Are you still holding out for some of the most prominent hackers to try to crack 6.0? Let us have your comments on this.