Alcatel One Touch Scribe HD, Lovely Android JB 5-incher
In the last couple of years we have seen a growing trend in the smartphone world for larger screen sizes on the handsets on offer, especially on the Android platform. This has seen more devices coming in at the 5-inch mark in the last few months, and this looks set to continue in the coming months, and today we have news of the Alcatel One Touch Scribe HD smartphone that looks a lovely Android JB running 5-inch smartphone.
Alcatel won't be the first name that many Android fans think of when considering a new smartphone, but as Engadget are reporting the company has revealed a number of new handsets at CES 2013 that include the One Touch Scribe HD. The upcoming smartphone features a great looking 5-inch HD IPS display with a 1280 x 720 resolution.
Under the hood is the new MediaTex MT6589 quad core processor clocked at 1.2GHz that is coupled with 1GB of built in RAM, and the device has some preinstalled features such as an optional capacitive stylus alongside applications such as movie editor and notebook. The device may be a worthy alternative for those that want a bundled stylus for their device but can't afford the popular Samsung Galaxy Note 2.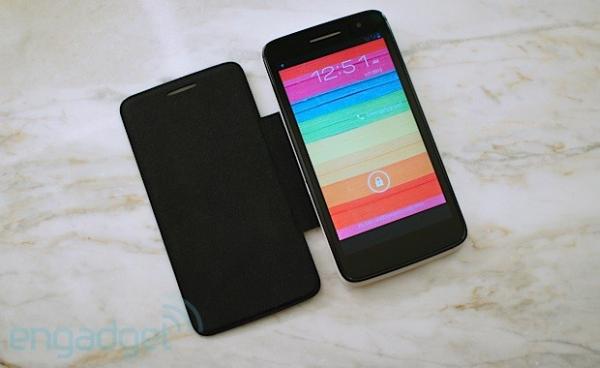 There is still a while before the handset will break cover though and be available to consumers, with the device not expected to reach the US market until sometime during the third quarter of 2013. The handset is set to be priced around the $400 mark unlocked, and will also feature an eight megapixel rear facing camera, and a front facing camera that is capable of 720p video capture.
The device will only feature 4GB of on board storage but luckily this is expandable via the microSD card port, and providing the juice is a 2500 mAh battery unit. Connectivity wise it offers support for quad band GSM as well as HSPA+. The team managed to spend some time with the handset and it reminded them of the shape of the HTC One X and the Galaxy Note 2, and a video can be seen below.
It was found to be a little sluggish in use but this could be down to the pre-release software the handset was running, but the flip cover was liked and had the same premium feel as the Apple Smart Cover. Once available the One Touch Scribe HD will also support 4G data download speeds among its specifications.
Do you think the range of new smartphones being launched by Alcatel this year will prove a success?