Nokia Lumia 999 & Lumia X gets our blessing
We are always looking ahead to the next mobile devices coming to the market and two Nokia handsets that we have for your delectation today are the Nokia Lumia 999 and the Nokia Lumia X. If you've been waiting for Nokia to jump on the bandwagon for the trend in smartphones with larger displays then the Lumia X may be the phone for you. Alas, before you get too excited we have to tell you that these designs for the Nokia Lumia 999 and Lumia X are concepts only although they do get our blessing.
At Phones Review we bring readers news of concept designs from time to time because as well as being interesting they can give us some intriguing insights as to what could be just around the corner, often in our dreams. Some concept renderings come with more detail than others and while some are pie-in-the-sky offerings others are more realistic and some also come with pricing. One of these is the Nokia Lumia X design from Gpat as shown by Concept Phones.
The Nokia Lumia X that you can see in our image at the top of the page is a 5-inch phablet with very slim bezels to top and bottom. Specs given for this include a 1.6GHz Qualcomm Snapdragon S4 quad-core processor, 5-inch 1080p AMOLED Full RGB ClearBlack display, 2GB of RAM, 12-megapixel PureView rear camera and 2-megapixel front-facing shooter. There's also 4G LTE connectivity, a stylus, 3000 mAh battery and wireless charging and the Lumia X would run on Windows Phone 9. It's even given a contract-free price of $299 for a 32GB model, $399 for a 64GB model or $499 for a 128GB variant, which although wholly realistic would certainly see this fly off the shelves if only it were real.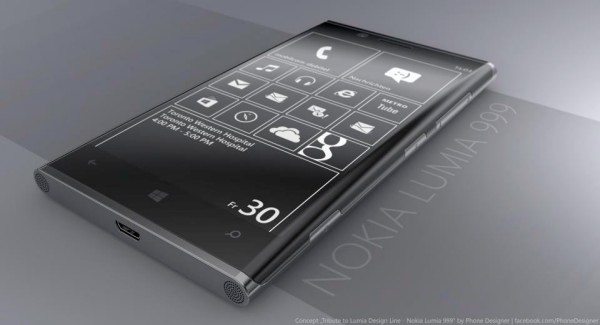 On to the Nokia Lumia 999 (seen above) and this one is designed from Jonas Daehnert. This is a neat design with a retro black and white look using shiny black glass and gun metal grey shades. The speaker areas to the bottom of the handset are stylishly circular in shape and look as though they could possibly be pipe-like throughout the sides of the whole handset leading to better quality audio. The sleekness of the design is added to with the slim and classy external function controls. The Lumia 999 is all about the aesthetic design and looks to have around a 4.5-inch display and we think that if this was the real deal its good looks could win over many smartphone users.
You may also be interested in our recent post about a concept design for the Samsung Galaxy S4. We're always interested in hearing your views on our posts so let us know what you think of these concept Nokia smartphones. Which one would appeal to you most if we could only get our hands on them? Send your comments to let us know.