iPhone 6 or mini release should run iOSX for Mac style
Only a few days ago we discussed the next Apple iPhone amid the news that apparently testing is already taking place on both the phone and the next major mobile operating system update, iOS 7. Although we don't yet know if the new iPhone for 2013 will be dubbed the iPhone 5S or iPhone 6, we are hearing further speculation about it almost every day. Today we have heard some interesting news about a design, apparently based on a test prototype, and the intriguing detail here is that it runs iOSX, an operating system giving the phone some Mac style.
We told of reports that Apple is testing iOS 7 already although there is still confusion over whether the next iPhone will release in the fall again, or revert to the traditional summer launch of old. We sometimes bring readers news of concept designs for new smartphones as this can bring a useful insight on what could be offered and this latest design comes from a well known name in this field, Federico Ciccarese and we also have a video look at his rendering of an iPhone 6 running iOSX.
Most concept designs we show you are purely imaginative but this one is said to be based on a description of a test prototype, according to Concept Phones. This suggests that Ciccarese might actually have some inside knowledge about the look of the next iPhone, although we're not claiming that stretches to the new iOSX operating system that the concept handset runs. The photos that we are showing you here are the designer's rendition of a possible iPhone 6 that appears to look similar in shape to the iPod nano, so could be described more as an iPhone Mini. The rendering also shows a Lightning port as on the iPhone 5 and the handset is edged in metal but with the obvious exclusion of a home button.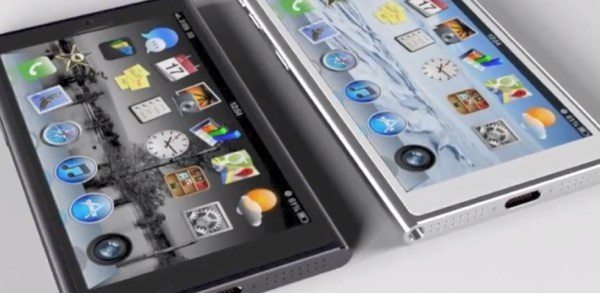 What has really made us curious is the idea of the fusing of iOS and OS X to come up with iOSX, therefore steering the iPhone towards use in the landscape position. Combining the usual iPhone OS with an Apple Mac set up could be a brilliant idea as instead of the small bar at the bottom of the iPhone with static apps, this could instead be removed and replaced with a pop up bar with a menu setting, just like the dock toolbar on the Mac. This could give space for more apps at the bottom of the iPhone, giving the phone a real desktop feel.
A look at the video below gives you an idea of how iOSX could look but we really want to know what benefits, if any, you could imagine from such a set up. Can you envisage using an iPhone 6 with iOSX and if so, do you think this would be a real advantage? Is this something that you could see Apple actually using for future devices? Let us know with your comments.