Alcatel One Touch Idol Ultra not releasing in USA or UK
In the mobile space recently it seems that every smartphone maker wants to lay claim to having the thinnest smartphone on the globe, and it appears that Alcatel has now joined in that thinnest smartphone claiming game as they have now announced the Alcatel One Touch Idol Ultra, an Android handset that is just 6.45mm thick.
According to a report over on Engadget, the Alcatel One Touch Idol Ultra is Alcatel's flagship handset at CES 2013 alongside the Alcatel One Touch Scribe HD, and the guys managed to get a little hands-on playtime with the One Touch Idol Ultra and made a video which we have embedded for your viewing consideration below.
Spec wise the Alcatel One Touch Idol Ultra sports a 4.7-inch 1280 x 720 HD Super AMOLED touch screen along with an 8 megapixel rear facing shooter and a 1.3 megapixel front facing camera, with 720p video, 1GB of RAM, is powered by a 1.2GHz dual core processor and runs Android Jelly Bean 4.1.
Connectivity wise the Idol Ultra handset supports quad band GSM along with dual band HSPA 7.2mbps in two different configurations, 900MHz, 2100MHz or 850MHz and 2100MHz.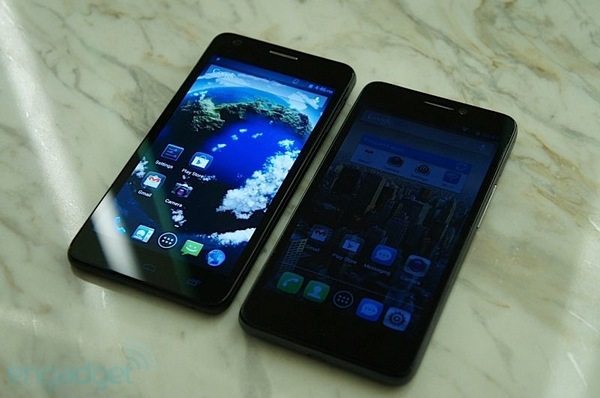 To make the One Touch Idol Ultra command that world's thinnest smartphone title, Alcatel has to shave off things such as microSD expansion and as such the handset only has 8GB of internal memory so those that are media hungry will need to rely on cloud services or forgo owning the device.
The word is the Alcatel One Touch Idol Ultra is destined to release in China sometime this month and will command a price tag of 2799 RMB, which is roughly about $449 US, but unfortunately due to the smartphone failing to get FCC approval due to its slim profile, the Idol Ultra isn't about to hit the United States any time soon, and the device will probably not come to the untied Kingdom either.
Alcatel hasn't delivered a smartphone sporting premium features for years, but it does look like the company has turned a corner and will be doing so from now on, albeit only in China for now at least, but who knows, maybe the Idol Ultra will see outside China at some point, and if it does will it be a device you would consider picking up?