NVIDIA Project Shield plays both Android and PC games
There was a time that mobile gaming was limited to the likes of the Sony PSP and the hugely popular Nintendo DS, but things have changed somewhat in the last couple of years with the progress made in the smartphone and tablet PC world. Now gaming fans can get their fix from a variety of different products that also offer HD displays and powerful internals, and now there is set to be another product on offer as Nvidia has revealed the Project Shied gaming device that plays both Android and PC games.
Nvidia has already revealed its new Tegra 4 processor, and its new chip that will be powering the company's new portable all in one gaming device. The device that basically looks like a gaming controller uses a 5-inch HD touch screen with a resolution of 1280 x 720 offering 294dpi pixel density, which opens up like a clam shell.
According to the company the unit has built in rechargeable batteries that will provide up to an amazing 38 hours of gaming time, which will be welcome news to gamers that will be considering the device. The gaming device can download and play games via the Google Play Store and TegraZone, but also it can be used as a wireless game streamer using a PC that is using a Nvidia GeForce GTX 650 GPU or higher from the STEAM game library.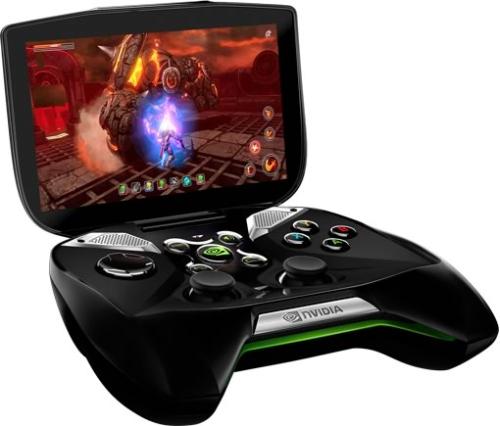 Other features include a built in microSD card slot. USB port, HDMI output, and a 1/8-inch audio port, and currently the device is undergoing beta testing and is running Android 4.1 Jelly Bean. According to Jen-Hsun Huang, co-founder and chief executive officer at NVIDIA, the company "imagined a device that would do for games what the iPod and Kindle have done for music and books".
The console grade controller has been designed for the gamer that requires the ultimate control while playing games and the display features Direct Touch technology that provides a more consistent responsiveness compared to a standard touch screen.
It also features a Tuned Port, Bass Reflex Portable Speaker System that provides audio that has twice the low frequency output of high spec laptops, and Project Shield will be able to use Android apps such as Netflix, Hulu, and Slacker radio so owners can enjoy their media content on the go.
Currently the company has not revealed any information regarding availability and pricing, but there is an official website here where consumers can find out more details and be notified when new information becomes available about the Project Shield.
Do you like the look of the new gaming console from Nvidia?