iFrogz Animatone kids accessories for iPhone, iPad & more
It's a fact of life that more and more kids are using mobile devices and whereas accessories for phones and other devices used to be very much aimed at adults, there are now far more accessories for kids to use. At CES 2013 iFrogz has just announced its kids line of accessories called Animatone and these products all have child-friendly, colorful, animal-based soft designs to appeal to children at pocket-friendly prices.
The existing Animatone headphones and earbuds line has now been extended to cases and speaker systems and all relevant audio accessories have built-in volume limits that will not allow the volume to be louder than 85 decibels, in order to protect kids hearing. The Animatone Snug is a new addition and these are plush toys that hold various media devices with an external speaker such as the iPhone and iPod touch and others, in a front pocket, which then amplifies the sound. It provides a fun way for kids to either watch videos or listen to music and uses NearFA technology, a groundbreaking wireless system that was first used with the Zagg subsidiary iFrogz, Boost accessories. You can see a video showing the Animatone Snug below this story.
As well as the Snug the Animatone Tumble was also debuted, a protective but lightweight case for the Apple iPad that safeguards and should avoid those sharp intakes of breath that many parents have when watching their kids handling the device. The Animatone Tumble incorporates a handle for easy portability for children of all ages and this handle also snaps into position as an adjustable stand so that media viewing is accessible from various angles.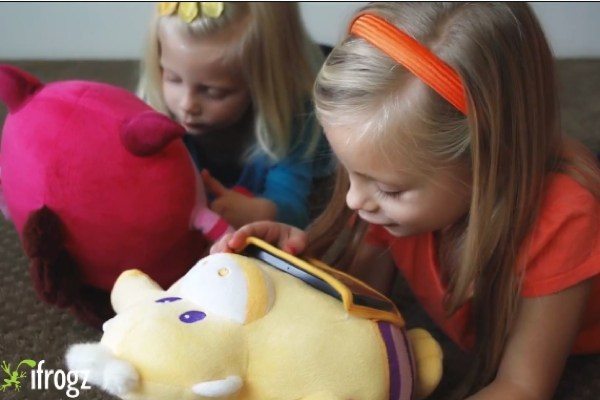 These are creative products for kids and allow them to become familiar with devices while giving parents reassurance that they are doing all they can to protect those devices and also their kids. Executive vice president of marketing for ZAGG, Kent Wuthrich said, "With the Animatone line, our goal is to provide products that children will love, while keeping their safety as our top priority and providing peace of mind for parents closely following."
You can find out much more about the iFrogz Animatone kids accessories at iFrogz here but as a guide on price the earbuds are priced at $19.95, headphones at $24.95, the Animatone Snug at $49.99 and the Animatone Tumble at $49.99. We'd like to hear your thoughts on these iFrogz mobile device accessories for kids. Do you think the prices are reasonable for the peace of mind offered? Let us know by sending your comments.