PowerSkin Pro & Hybrid Battery Charger Cases offers more life
Obviously it is not just tech gear that is shown off are CES 2013 in Las Vegas, as there are accessory makers at the event as well, and one such mobile device accessory maker in attendance is XPAL Power, who make the PowerSkin line of devices. And whilst at this years CES event, XPAL Power has introduced three new accessories in the form of the PowerSkin Pro and the PowerSkin Hybrid Battery Charger.
The PowerSkin Pro case that delivers a soft touch hard plastic shell with LED indicator lights on the front to deliver a quick view of how much battery your handset has and features a 2000mAh battery pack, and will becomes available in five colours, black, white, titanium, pink and red.
There is also another PowerSkin case that is for the iPhone 5 that offers a new angular ultra-thin design that is said to feel very comfortable in the hand, and sports an on/off switch, LED battery level indicator and features a 1500mAh battery according to an article by Ubergizmo.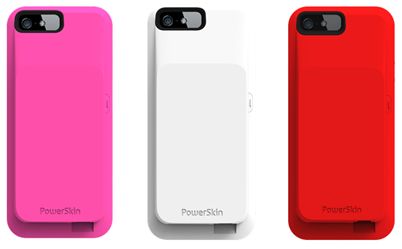 Then the company has also introduced the PowerSkin Hybrid Battery Charger, a device that uses small suction cups that stick the device to your mobile handset and connect via a soft flex-tip to the microUSB slot, Apple Lightning or Apple 30-pin connector, and enables the user to charge their device without having to remove it from the case.
The PowerSkin Hybrid Battery Charger incorporates a 2000mAh battery and will extend your mobile device power between 50 and 70 percent depending on the capacity of the handset being charged, and the PowerSkin Hybrid Battery Charger will become available in five colour options, pink, red, black or titanium.
Apparently both PowerSkin cases and the PowerSkin Hybrid Battery Charger will become available at the beginning of this year although the company hasn't given a firm release date, and also they haven't made any mention about just how much each accessory will command price wise.