See-through iPhone 5 looks too cheap
The iPhone 5 is one nice looking and popular smartphone, no one can really deny that, and many will want to make sure their spanking new iOS smartphone remains in pristine condition for as long as possible. As such some will naturally add a little protection to their iPhone 5 by adorning it with a case. But if you don't want a case that will add too much bulk to the handset, and would like to have a case that shows off the internals of your Apple smartphone then you might like the case we have for your consideration today.
The case is a new kit for the iPhone 5 from iPhone5mod, and basically turns your device into a see-through iPhone 5. The iPhone5mod kit comes with detachable top and bottom panels for the rear of the iPhone, along with replacement mute switch button, power button, Lightning port slot and SIM card slot, all in a translucent durable plastic.
Apparently the plastic in the iPhone5mode kit can withstand strong collision and bending during installation, whilst the body is scratch-proof and anti-fingerprint, however the only bit that the kit doesn't replace is the front panel.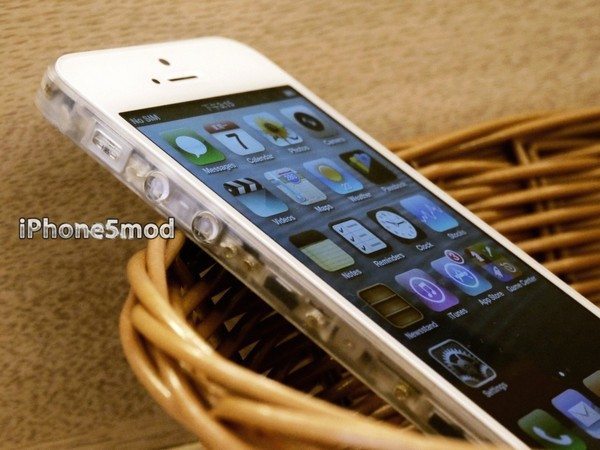 Using the iPhone5mod kit on your iPhone 5 also means the handset will be lighter, and you even get a camera lens cover, flash glass cover, and a flash mental cover. The kit is also available in seven colour options pink, red, yellow, green, blue, white and black, all translucent of course and you can mix and match to make your iPhone 5 unique to you.
The iPhone5mod kit commands a price tag of $39.90 a pop but if you are undecided what colour kit you want, you can purchase all seven colours as a complete kit at a cost of $169, and if you purchase the kit within the first 48-hours the firm will throw in all seven colours of the top and bottom panels for free. However one must remember if you do opt to swap out the housing of your iPhone 5 in favour of the translucent case you will void your warranty.
We have embedded a promo video of the iPhone5mod kit for your viewing consideration below, so don't forget to mash that play button to check it out.
Personally I think this mod kit tends to make the iPhone 5 look somewhat cheap with all its guts on show. But what do our reader think, would you use a see-through kit on your iPhone 5?