HTC One X+ 4.1.2 Jelly Slim Bean ROM
If you are the proud owner of the HTC One X+ you'll know that your handset is running Android Jelly Bean 4.1.1. However if you are one of those that do not mind tinkering with your smartphone in order to gain a new version of the operating system you might like to know that you can now update your device to the next version of the OS Android Jelly Bean 4.1.2 by way of a custom ROM called Slim Bean.
Apparently the Slim Bean custom ROM is known for its fast, low size and more battery friendly nature, and is of course an unofficial ROM for the HTC One X+, but does come with several customised features that the stock ROM does not offer.
Although the Slim Bean ROM is based on Android Jelly Bean 4.1.2 and offers custom features and tweaks, you should be made aware that the Slim Bean ROM is still under development and as such will come with numerous issues and bugs, whilst no doubt those problems and bugs will be sorted out as the development progresses.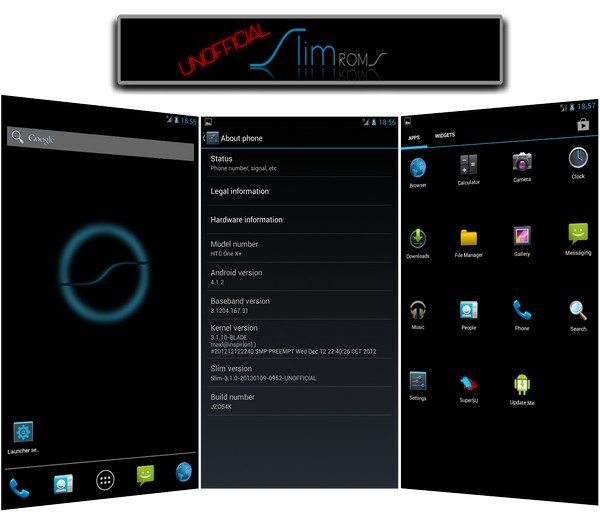 Naturally if you do tinker with your HTC One X+ to get the Slim Bean Android 4.1.2 OS onto your device and anything should go wrong you will probably void any warranty due to that tinkering, but if you wish to go ahead and give the custom ROM a whirl, the guys over at Android Jinn have a tutorial for you to follow so you can install Slim Bean onto your device.
That tutorial does come with the usual warning that it is only for the HTC One X+ and should not be used on any other Android device, that if you follow the tutorial and things go wrong the site can not be held responsible, and of course you undertake installing the Slim Bean Android custom ROM at your own risk.
So there you go, if you don't mind tinkering with your HTC One X+ and install the Slim Bean ROM feel free to let us know how everything goes or if you experienced any problems, and what you think of the custom ROM by dropping us a line to our comments area below.
Image courtesy of XDA-Deveopers Forum