Samsung Exynos 5 Octa processor great for Galaxy S4
The CES 2013 event has so far provided some nice new mobile technology that is due for release soon or still undergoing development. Earlier this week we saw the next processor from Nvidia that will follow on from the widely used Tegra 3 quad core chip, but not to be outdone smartphone manufacturer Samsung has revealed the Exynos 5 Octa processor that would be great for the Galaxy S4 release.
As it is being reported by the Android Community during the company's second keynote speech at CES 2013, Samsung has revealed the new Exynos 5 Octa processor that is based on the ARM big LITTLE/Cortex A15 architecture. This new mobile processor has been designed to require lower power while offering higher performance, and according to the company it has twice the 3D gaming performance that anything that is currently available.
Back in November there were reports that Samsung was busy working on a new Exynos processor that would make use of ARM's big.LITTLE architecture, and in theory the chips will provide users with more power while only using a small amount of juice from the battery, which in turn means better battery life on our mobile devices.
The Exynos 5 Octa is built with a total of eight cores that are split up with four Cortex-A15 processors and four Cortex-A7 cores, which will be much faster than the likes of the Exynos 5 Dual that is found in the Nexus 10, and Samsung is claiming their new chip can cut power use by up to seventy percent compared to the Exynos 5 Dual chip.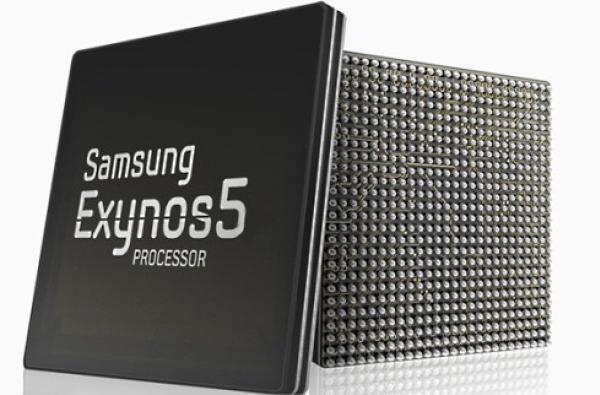 This is because the new processor can take on standard tasks by using the lower voltage A7 cores, which is similar to what the Tegra 4 is supposed to do with its fifth core, and provide better efficiency in terms of power use.
Obviously once available this new processor will only be found in high end mobile products, which will make it perfect for the Samsung Galaxy S4 and the Galaxy Note 3, but during their keynote speech the company didn't reveal exactly when the Exynos 5 Octa will be available.
One thing that is guaranteed with new processors such as this and the Tegra 4, gaming fans are going to be treated to even better titles being released in the coming months. Do you think we will see the Exynos 5 Octa inside the Samsung Galaxy S4?