Pod2g jailbreak king releases new podDJ iPad app
iOS Jailbreak king famous for the likes of Absinth 2.0 etc and real name Cyril CATTIAUX has just released a brand new app for iOS users called podDJ, it is out right now and can be installed on your Apple iPad running iOS 6.0 or later. This is his very first app released to the App Store and it looks incredibly good, we have installed but have not had time to play around yet, give us time and we will review this new app.
If you are into music then this one goes out to you, the new app aptly called podDJ, which just replaces the 2G with DJ is for budding DJ's who loves to get their hands on software that can scratch and mix music tracks from your iTunes library on your iPad tablet. The interface looks fantastic and pod2g mentions that it will be the best and snappiest iOS DJing app due to the OpenGL refresh rate of 60Hz and sound output latency of just five milliseconds, the way this app works on the iPad display is second to none and very smooth.
PodDJ for the budding DJ will allow iPad users to get that superb feel of a real mixing engine, because users can get their tracks direct from their iTunes library, which means that there is no loading delay and provides high fidelity sound processing.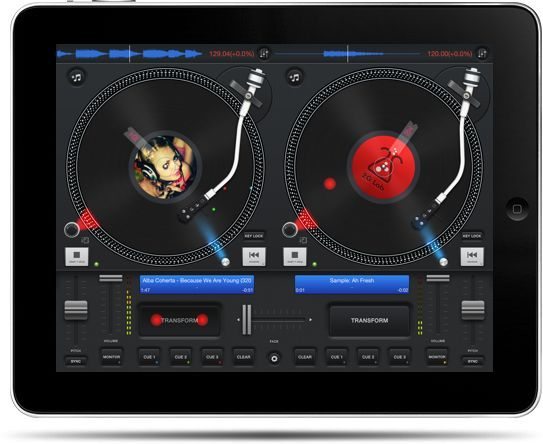 Main features include the ability to monitor output (Pre-Cueing), Multi-Route audio, 60Hz refresh rate, Zero latency key lock (time shifting) using DIRAC 3 technology, Manual (tap) BPM computation, Automatic BPM detection, Zero latency cue points and one we very much like is the AirPlay compatible and Numark iDJ Live compatibility. The developer promises new updates will bring many more features.
At the moment you can buy this app via iTunes for only $5.99 (£3.99), this price will only be this low today, after today from the 14th until the end of January it will be priced at $7.99 and after this month it will cost $9.99, so we suggest if you want to check it out then do so right now whilst the price is at its lowest.
Please do watch the video provided below of podDJ in all its glory, if you have installed this app please let us know what you think of it?