2013 Golden Globes Live from the Red Carpet iPhone & iPad app
It seems to come round quicker every year but once again it's time for the Golden Globe awards. The 2013 Golden Globes ceremony takes place tonight at the Beverley Hilton hotel hosted by Tina Fey and Amy Poehler and we know that many readers enjoy the whole razzmatazz and spectacle of the event including the excitement of the Red Carpet. With this in mind we thought we'd bring you some details of a Live on the Red Carpet app for the iPhone, iPad and iPod touch that will help you get the most of the Golden Globes 2013 Live on the Red Carpet experience.
E! is famous for its Golden Globes Live on the Red Carpet coverage and now its online coverage will be enhanced with the addition of this free mobile app offering livestreaming. Even when the TV coverage goes to commercial the E! livestreaming will still be available. The iOS E! Live on the Red Carpet app is compatible with the iPhone 3GS, iPhone 4, iPhone 4S, iPhone 5, iPod touch 3rd 4th and fifth generation, and iPad. Your device needs to be running iOS 5.0 or later and the app has bee optimized for the iPhone 5.
The app has just been updated to version 3.1 with a caution that if you are updating from a prevous version to uninstall and reinstall the app to avoid it crashing upon launch. The Live on the Red Carpet app for iOS will give you a top-end experience as though you are having VIP access and as well as the Golden Globes Awards it can be used for other notable occasions such as the Academy Awards, Grammy Awards and more.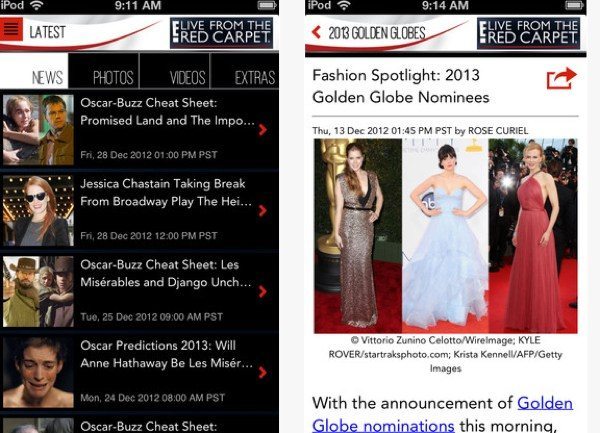 Features include celebrity news and interviews, livestreams, video coverage, behind-the-scenes and you'll be able to see all the fashions on the GlamCam 360. If you are using an iPad you can also zoom in on fashion details in a high-resolution gallery. Other inclusions are access to E! articles plus the ability to share your enjoyment of the occasion via Twitter. You can download the Live on the Red Carpet app for iOS at this iTunes link.
All that's left to do now is to sit back, relax and revel in one of the most popular TV entertainment spectacles of the year. Will you be using the Live on the Red Carpet app by E! Entertainment Television available now from the App Store? Let us know what you think of it if you choose to download it for the big night.