Lenovo IdeaPhone K900 benchmark & video pleasures
CES this year was one of the best to date with thousands of products announced, some of them really caught the eye of the consumer. One company really stepped up to the plate and delivered something very special indeed, the company is none other than Lenovo and its super phone is called the IdeaPhone K900. So let's see what this handset is all about and how it fairs in the benchmark corner.
The Lenovo IdeaPhone K900 is the company's flagship premium smartphone that comes with a stunning 5.5-inch IPS screen and only a mere 6.9mm thin profile, if you want design then this has it, if you want speed then you will get it with the K900. We want the best from a mobile phone and all that seems to stick in our minds is the specifications, the IdeaPhone K900 looks beyond just specs and concentrates on performance in a thin shell.
Is this really the game changer in the smartphone world?
A Android OS, v4.2 (Jelly Bean) handset that weighs only 162 grams with a 6.9mm thin body, it is made of polycarbonate in a Unibody mold and comes with a stainless steel alloy, so we know judging on the photos shown here it has a strong sense of design. The whole layout of the battery and PCB reduces space thanks to the internal components. When it comes to the display we are looking at a 5.5-inch IPS 1080p full high-definition resolution and providing 400+ pixels-per-inch and Gorilla Glass. The Samsung Galaxy Note 2 has a 5.5-inch display and we know how good that smartphone is, but can the Lenovo be better than that in terms of viewing pleasure and gaming? Time will tell once it has been released, sit back and be patient and we will bring you comparisons soon enough, whilst on the subject of the Note we are looking forward to seeing a Galaxy Note 3, no one knows when but we are sure it will happen, and when it does we say the K900 would be the perfect comparison.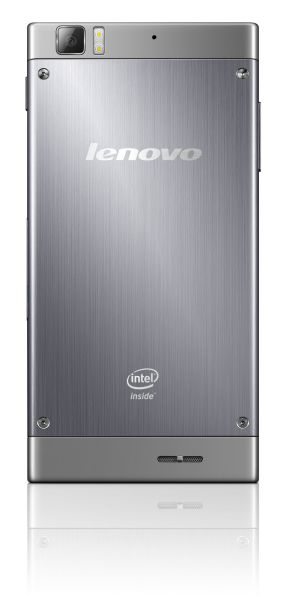 The IdeaPhone K900 is surrounded or should we say centered on the forthcoming Intel Atom processor platform for smartphones, and comes with a 13MP rear camera with Sony Exmor BSI sensor and F1.8 focal length lens that is fantastic for flash-less photos in low-light.
We came across Tech Authors who reported that experts done a AnTuTu benchmark test, the Lenovo IdeaPhone K900 got a superb result with 27,154 points, to put this into perspective the HTC Droid DNA got 15,000 points and the Samsung Galaxy Note 2 got 13,000, it shows that the IdeaPhone K900 has great performance, we will be looking into more tests on this smartphone and when we do we will notify you.

The Lenovo IdeaPhone K900 will be available in China from April and then select market regions thereafter; hopefully USA and UK get a look in. Please watch the video pleasures below of the K900.
What do you think of the Lenovo IdeaPhone K900?