AT&T Samsung Galaxy Rugby Pro Android 4.1 enhancements
Over the last few weeks we have seen more hardware finally being treated to the Android Jelly Bean software that is giving owners a nice new feel to their handsets. South Korean manufacturer Samsung has certainly been getting the later firmware out to its devices recently, and now the AT&T Galaxy Rugby Pro has been getting Android Jelly Bean 4.1 with a number of enhancements.
At the beginning of the week AT&T revealed that the Android 4.1.1 Jelly Bean update was beginning to rollout to owners of the Samsung Galaxy Rugby Pro via an over the air update, as well as the Samsung KIES desktop application.
The company also revealed the new features that the software brings with it that includes a number of new features for the handsets camera. These include new live camera and camcorder filters, and pause and resume while recording a video.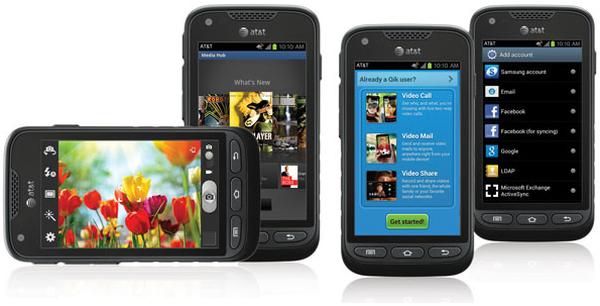 Pop Up Play has been updated so users can easily resize or pause the Pop Up Play picture in picture video window, and the easy mode will allow for new smartphone users to have a more simplified experience.
Users can now make use of the Blocking mode that allows them to disable incoming calls, alarms, notifications, and more for a set period of time along with some new keyboard options that includes the Swype option.
This update started to arrive on the handset a few days ago now so many of you may have already installed it onto your device, but if you have yet to receive the notification of the updates availability you can manually check for it yourself.
To achieve this either connect the handset to the KIES application or go into the Settings option of the handset while connected to the Internet via Wi-Fi, and then select the About device and software updates options. The full changelog can be found here, and tell us if you have already received the update.