iPhone 5 SPIGEN SGP Slim Armor Case video reviews
There will be many of you that don't like to cover up that stylish looking new smartphone with a bumper or case despite the risks of any damage. Luckily for those that do want to protect their treasured handset there are a huge number of cases available that offer protection, while keeping a stylish look to the device. We now have the iPhone 5 SPIGEN SGP Slim Armor case for you with a number of video reviews as well.
The product according to the manufacturer has been designed to protect the iPhone 5 at every angle with improved shock absorption all the way round the edge of the handset. It is constructed with a double layer with a TPU case, along with a polycarbonate hard case to offer even more protection.
Owners can remove the polycarbonate part of the case that then allows it to be interchanged with different colour finishes, and the case fits snugly onto the iPhone 5 to still give a nice sleek and natural look. The middle part of the case has also got a matte finish to improve grip in use as wells as provide a soft touch.
We have embedded a number of videos below that show off the Armor iPhone 5 case and the first one is just a quick preview of the handset being placed easily into it, and showing off the various openings for the handsets functions. The next video down goes into more detail about the case and the fact it's not supplied with a screen protector, but the low $17.99 asking price may have something to do with this.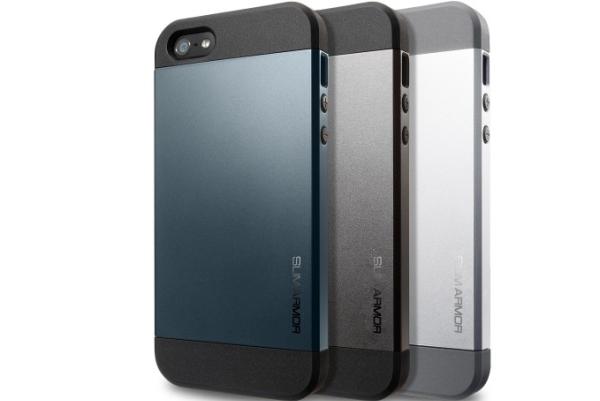 The video continues by showing you how easy it is to install the iPhone in the case, but does mention that a screen protector is advisable as well. The next video again talks about installing the case onto the iPhone 5, and states you can either have both pieces of the case together before placing the handset inside, or you can first put the device inside the main body of the case before putting on the back polycarbonate shell.
Again owners are advised to use some kind of screen protector as even with the case on there is no protection for the iPhone 5's display and the final video also comments on how cleanly the cut outs have been done for all of the handsets ports. You can find the SPIGEN SGP Slim Armor case for the iPhone 5 here, and check the videos out below.
Do you like the look of the SPIGEN SGP Slim Armor case?