Super-Sexy iPhone and Android Charge Card charger
One of the most common problems that can affect modern smartphones is running out of power at a really inconvenient time, especially if we don't have access to a charger or USB cable. We get to see a number of different ideas for smartphone accessories on Phones Review, but the iPhone and Android Charge Card charger has got to be one of the cleverest ideas we have seen lately.
There will be times that you are running out of power in your smartphone battery, and even if you are at work you may not have a USB cable at hand to plug your device into a PC to charge your device. This clever idea though that can be found on the Kickstarter Project will mean you will always have something close at hand to charge your smartphone.
The product unsurprisingly has already reached its target regarding funding, and as you can see on this page is designed in the shape of a business or credit card. Obviously the ChargeCard is thicker than a credit card, but it can easily be placed in pocket, wallet, or purse so it's always there when you need it.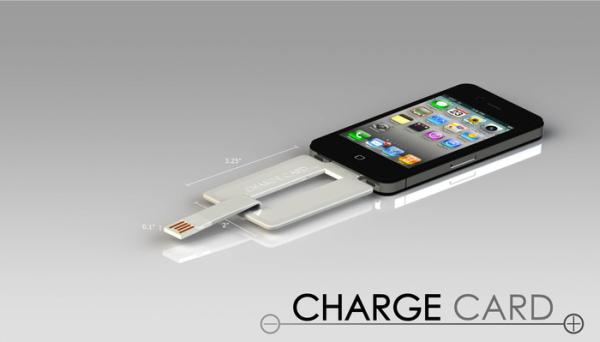 It simply uses the power from a USB port to recharge your smartphone allowing you to quickly give your handset a boost in battery power. Measuring only 2.54mm thick it can even slide inside many cases that may be fitted to some smartphones, and it is manufactured from a durable ABS plastic material with the foldout USB arm using a flexible thermoplastic elastomer.
To find out more use the link above and we have embedded a video for the ChargeCard that you can see below, and tell us what you think of this upcoming product.