Node sensor gadget connects with iOS devices
Some amazing products were unveiled at CES this year and we've brought you plenty of news on new smartphones and other gadgets but one of the most intriguing has to be a product called Node. The Node is a sensor gadget that connects with iOS devices and can measure almost anything. Paired with add-on sensors it can gauge such things as colors, moisture, temperature and much more.
The Node is the brainchild of George Yu, who has previously worked at both the Department of Homeland Security and NASA, and it's one of an increasing amount of projects that stemmed from a Kickstarter project. That raised funding of $76,000 for the first manufacturing run and it's now in full production by Variable Tech. The company describes the Node as the "Swiss Army knife of sensors," no doubt because of the add-on sensors, while Yu himself said, "It's a highly flexible, advanced, sophisticated tool that will advance as time goes by."
Although this is a complicated device, simply put the Node's entry-level Kore module houses the basic components, consisting of 2GB of memory as well as a battery, accelerometer, gyroscope and magnetometer. Appearance-wise it's a white cylinder and resembles a roll of quarters and the Kore is priced at $149. Apple iOS devices can be paired with the Node via Bluetooth using an official app from Variable Tech that displays and records the data and can also email it. Third-party apps are also available and there are also plans to extend support to the Android platform.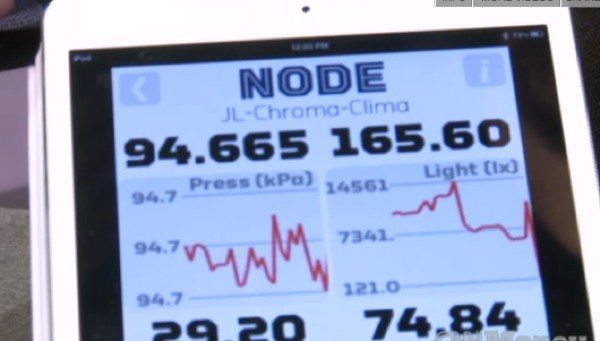 Alongside the base Kore there are 5 other sensors available so far and they are Chroma, Clima, Therma, Luma and Oxa according to CNN. Those different sensors measure aspects such as colors, temperature, light, gas and more and cost between $25 and $149 each. They will release in 3 to 4 weeks and are available to pre-order now.
As an example of how they can be used the Chroma sensor attaches to the Node and accurately captures 'true colors.' Imagine then that you see a color that you'd just love to paint on your wall. Then you simply put the Node against that colored item and it will measure it with 99.9% accuracy and display the color values in formats such as CMYK. You can see more about Node and how it works in the video that we've embedded below our story.
The amount of uses of the Node seem almost limitless to us and we'd like to hear your thoughts on this product. Maybe you have ideas of how this could be useful to you and could share those ideas with us? Send your comments to let us know.