BlackBerry 10: New Beginnings, Fresh Chapter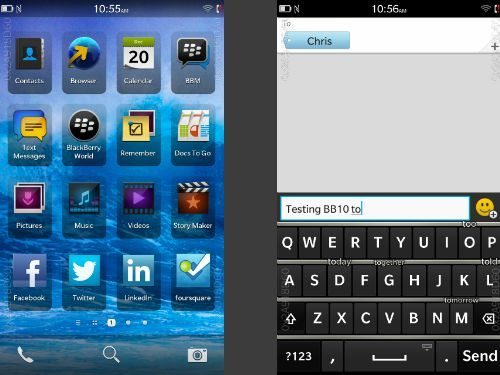 The launch of RIM's new BlackBerry 10 software is just around the corner and it looks like it could mark the start of a new chapter for the Canadian smartphone manufacturer. A range of new BlackBerry 10 devices, including the leaked BlackBerry Z10, will also be unveiled alongside the software on 31 January – And, despite some delays in its development the testing stage of BB10 has sparked a huge amount of excitement and positive reviews.
All the major UK network providers are confirmed to range the new BlackBerry 10 devices and app developers have also been eager to get on board. Latest rumours suggest the new operating system will launch with well over 100,000 apps in its native app store, BlackBerry World. As crucial as this may be, RIM will be hoping that BB10 will encourage loyal fans of BlackBerry to stay on board, as well as appeal to a wider customer base. Six new BB10 devices rumoured to launch at various price points, coupled with an increased number of apps will no doubt help in this respect.
What does the future hold?
BlackBerry devices have always been regarded highly amongst business users but as RIM looks to take on the likes of iOS and Android, its innovative new software looks to bring something for everyone. The Canadian manufacturer has shown a huge amount of confidence in its latest software, and it's been designed to be compatible with much more than smartphones in the future. As a result RIM has set its sights carving out a range of projects for the future and this week RIM CEO Thorsten Heins has been quoted saying he won't rule out licensing the new software to rival manufacturers.
This is something we've already seen from Microsoft with its Windows Phone platform, but Microsoft has shown that even after years of hard work it takes something really special to compete against Android and iOS. There is also speculation that RIM could even ditch its hardware altogether and take an approach much like Google does with Android, although given the hype surrounding the potential new BB10 devices this is highly unlikely. Licensing its proprietary operating system is certainly an ambitious prospect, but whether RIM chooses to take this route will all depend on how the new platform takes off and whether it manages to prove itself.
Some of BB10's best bits…
BB10 is the most innovative platform ever seen from RIM and is expected to bring a raft of new features, which will undoubtedly appeal to new users. The all-new platform incorporates features such as BlackBerry Peak, which includes a new sliding notification menu so users can check updates without having to leave the app that's currently open. This multitasking experience enabled by the likes of BlackBerry Peak combines with other elements of the OS to form what RIM calls BlackBerry Flow. Whilst 'Flow' isn't a feature in itself it describes the smooth and seamless manner in which a user navigates around the platform, and with the absence of a homescreen, it gives the impression all apps and areas of the OS are laid out in front of you.
The QWERTY keys have been ditched for an intuitive onscreen keypad, which adapts to each individual user, learning oft-used words as well as the way users tap each key, adjusting the keypad accordingly over time.
The camera app now also incorporates Time Shift functionality to enhance image capturing. If the user takes a picture and finds one of the subjects has their eyes closed when the shutter button is pressed, Time Shift lets them highlight their face and shift the image back a few frames until they are open. The app then seamlessly merges the altered part of the picture with the rest of the image.
What next?
RIM won't reach its way to the top overnight but if all goes to plan it could really start to claw its way back into the market, buoyed by BB10. RIM's confidence is certainly a reassuring sign that BB10 will be well worth the wait, and it already looks to have many future plans, which could see it adopting similar strategies to that of its competitors.
For now though, the first hurdle is that BB10 shows its real potential to appeal to a wider user-base, which would not only cement RIM's place as a key contender in the smartphone market, but also provide solid foundations for future developments.