Audojo iPad Case Controller for serious gamers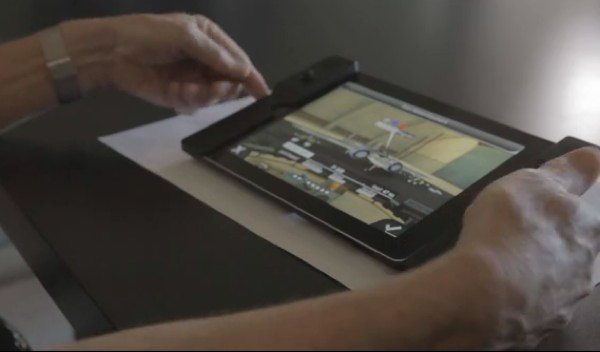 Every now and again on Phones Review we like to bring news about innovations that people are trying to bring to the market. Many of these are smartphone or tablet accessories or gadgets and today we have details of the Audojo iPad Case Controller for serious gamers. This has been specifically designed for those who loving gaming using a tablet and offers the user physical buttons and an analog joystick for that authentic gaming experience.
The Audojo iPad Case Controller is a Kickstarter project and those who often join us on Phones Review will know that we enjoy bringing news on these projects. The idea of Kickstarter is that people can show their ideas for a product and then raise funding to get the item into production through backers using the site. Audojo is looking for funding of $240,000 and has so far raised $18,408 from 250 backers, so there's a way to go yet before the deadline on February 21.
This idea offers the best of both worlds for the tablet gamer with the joystick and physical buttons that many miss, combined with the use of touchscreen features such as swipe, multi-gestures and more. This iPad case has the buttons and thumbstick on the top, stereo speakers and two trigger buttons underneath for firing primary and secondary weapons and offers more precision than using the iPad alone.
It also prevents those annoying moments when your thumbs slip on the bezel and ruin your game and it can also be used if you connect your iPad to your TV using Apple's AirPlay technology, for the advantage of gaming on a larger screen. It's a very neat idea and you can see a video showing the Audojo iPad Case Controller and how it works below this story. You can also see the Kickstarter details here.
We'd like to hear what you think about the Audojo iPad Case Controller. This looks to us like something that could appeal to many enthusiastic iPad gamers but do you agree? Maybe you are about to join in the backing of this Kickstarter project yourself? Share your thoughts using the comments box below.