BlackBerry Z10 full official details confirmed, UK tomorrow & US March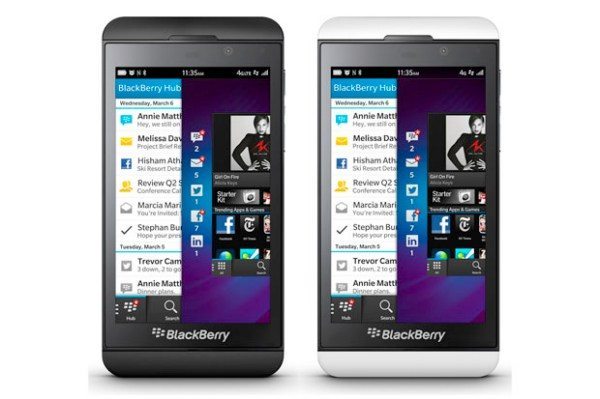 We've been very enthusiastic about hearing the news from the big BlackBerry event today introducing the new BlackBerry 10 OS and some of the first devices that will run it, such as the Z10. The success of the BB10 operating system could really be make or break for RIM's BlackBerry platform and leaks that we've seen over the last few weeks about what to expect have been increasingly promising. The BlackBerry 10 event is taking place right now and the Z10 smartphone has just been officially introduced and we have confirmed details for you of specs, price and release availability.
We wondered for some time whether it was expecting too much for BB10 to rejuvenate BlackBerry but after some rumored specs and leaked images of the BlackBerry Z10 we began to believe that BB10 and the Z10 could really be what many consumers are waiting for. Thorsten Heins, RIM CEO, has just pretty excitedly introduced the Z10 and Q10 handsets. You'll find info here on the Z10 while my colleague is presently covering the Q10 phone.
Many of you will already know that the Z10 is a full touchscreen device without the traditional QWERTY keyboard. Specs include a 1.5GHz Snapdragon S4 dual-core processor, and it has a 4.2-inch display with resolution of 1280 x 756 and 356 ppi. There's 2GB of RAM, microSD card slot for up to 32GB, micro SIM, Bluetooth 4.0, WiFi a/b/g/n and NFC support plus a removable 1800 mAh battery. The Z10 also has a 8-megapixel rear camera with 1080p video capture plus a 2-megapixel front-facing camera.
Other specs include red LED notification, micro-USB and micro-HDMI ports and 3.5mm headphone jack. The Z10 will be available in black or white color options and built of aluminum and plastic with a textured surface that should make it feel good in the hand. Dimensions of the Z10 are 130mm x 66mm x 9.3mm and it weighs 138g so it's actually pretty light for its size. It will also have LTE connectivity for AT&T, Verizon and Sprint stateside and will be carried by T-Mobile too with carrier-branded models.
The BlackBerry Z10 will release in the UK tomorrow and in Canada next week on February 5. However there's bad news for those in the US as Heins has just confirmed it will not release there until mid-March due to carrier testing requirements. We reckon this will disappoint many US smartphone owners who may have been keen to be among the first to get one of the new BB10 devices and will now have to wait longer, just as with the Samsung Galaxy S3. It also seems that in the US the white version of the Z10 will only be available on Verizon.
As far as price goes, US pricing has been confirmed as $599 unlocked or $199 on a two-year contract, which seems pretty competitive to us. In Canada the price will be $149 on a 3-year contract while in the UK prices will vary and it will be available from BT, EE, O2, Phones4u, 3UK and Vodafone.
We really like the look of this new BB10 smartphone and can't wait to get hold of the Z10 to get a real idea of the phone. We'd like to hear your thoughts on these confirmed specs, prices and release details for the Z10? If you're in the US how do you feel that once more you have to wait longer than some other regions? Let us know with your comments.