BlackBerry Q10 revealed with QWERTY keyboard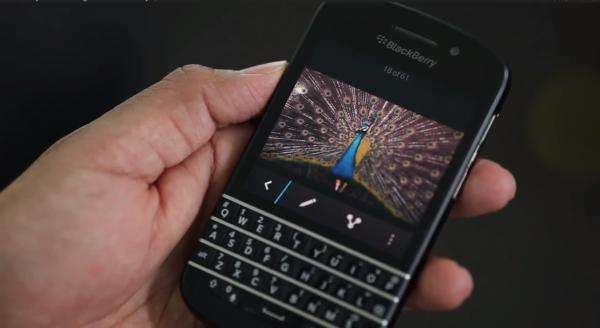 The long awaited BlackBerry 10 operating system is finally here and the event to showcase the platform has been taking place today. The company have been showcasing the new software and the handsets it will be running on at launch, and this includes the BlackBerry Q10 that has been revealed which has a QWERTY keyboard.
During the showcase the company revealed its new name BlackBerry, and besides the much leaked Z10 also revealed the Q10. The device uses a 3.1-inch AMOLED touchscreen display with a resolution of 720 x 720 and 330ppi pixel density coupled with that QWERTY keyboard.
There is a "glass weave cover on the back" that according to BlackBerry is not only lighter and thinner, but also stronger than plastic. The keyboard is also the widest the company has produced so far, and it is believed the handset may not be available until April though on carriers around the world.
Other features include a 1.5GHz processor paired with 2GB of RAM, and there is 16GB of onboard storage that can be expanded further thanks to the microSD card port. Hopefully the various carriers around the world will soon provide that all important availability and pricing of the device, which at least keeps those that prefer a physical keyboard that BlackBerry are renowned for happy. We have embedded a promotional video for the BlackBerry Q10 below.
Will you be getting a BlackBerry 10 handset?