IRS2Go app for Tax Refund Status, new update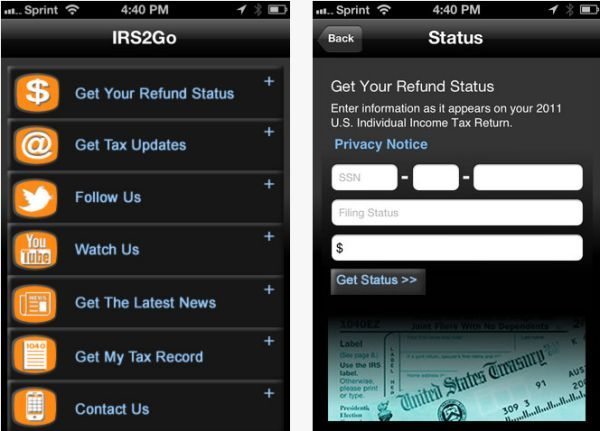 When it comes to the Inland Revenue you know that Tax is one of the only things in this world we have to do, keeping on top of things is always a good start to a new tax year. Thanks to the wonderful IRS2Go app it allows you to do a number of things but the main bit that sticks out is the 'Tax Refund Status' and this allows the taxpayer to check the process.
Many of you maybe thinking where is your refund from the IRS and thanks to this app it allows you do find out with a few simple steps, the good news is that this app on Google Play and the App Store has had an update. If you have an Android device the update now includes updated text and usability improvements, if you have an iOS device then the 2.1.1 updates will give users features such as 'update tax year' generic error message, and tweeter feed URL.
Like we said above the IRS2Go app allows taxpayers to check their tax refund status, and all you need to do is simply follow the on-screen instructions within the app, such as entering your Social Security Number, then select your filing status and enter the amount of your expected refund from your 2011 tax return. The good thing we like is that if you e-file your return it will check the refund status within days, but if you file a paper tax return then expect to wait three to four weeks to check your refund status.
The app also features Tax tips as well as watching IRS YouTube videos, request your tax return or account transcript from your phone and read the latest tax news. If you decide to click on the links above to install the IRS2Go app you will have to set it up by filing status (married, single, head of household), adding your social security number as well as the exact dollar amount of the refund you're expecting.
If you are using this app please do let us know what you think of it?