RunKeeper Android app all-new version 3.0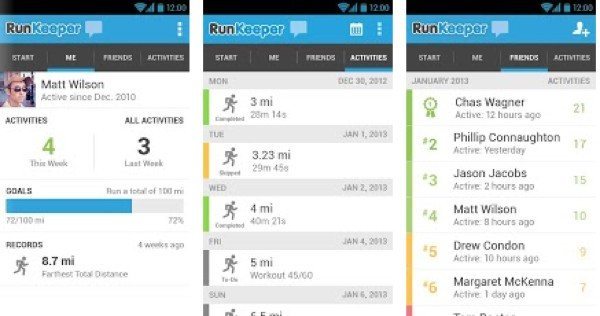 Many of you will have heard of RunKeeper, one of the very best apps available for enthusiastic (or not so enthusiastic) runners, walkers, hikers and cyclists. The app is used as a personal training tool and over 14 million people already use the popular app. Yesterday RunKeeper received an all-new Android version 3.0 and we have the rundown on what it offers below.
RunKeeper 3.0 for Android offers a huge amount to users of the app including tracking your activities, showing stats involving calories used, your pace, distance and time and getting coaching, stats and progress through headphones with build-in audio cues. Users can listen and control music as they exercise, take pictures en route and also update weight as well as measure their heart rate.
New features of the RunKeeper 3.0 update mean a complete revamp of the app including a totally new visual design and with improvements to audio cues. Users can also schedule workout reminders and see in-activity splits during their chosen activity. It also brings a 'me' tab, which acts as a central hub showing personal progress, records and total activity.
You can find RunKeeper — GPS Track Run Walk version 3.0 for Android at Google Play here. It's a free app and compatible with devices running Android 2.2 or later. We think the rejuvenated design of this app is a big improvement so if you want to keep on top of your New Year fitness resolutions this is a great app to add to your device.
We'd like to know what you think of the RunKeeper app for Android. Were you an existing user and if so what do you think of the new look from version 3.0? Maybe this is not an app you've used before but you're about to download it from Google Play now? Send us your comments about RunKeeper.