iPad 5 renders make an impression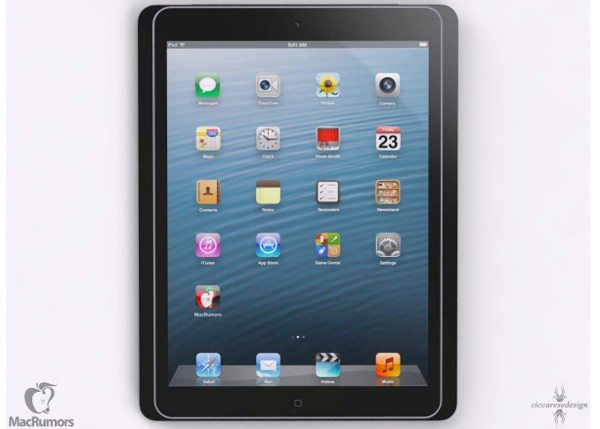 Although it seems hardly seems any time at all since the Apple iPad 4 launched, awareness is already turning to the iPad 5. If you want an impression of what the fifth-generation iPad could look like then some renders have been especially commissioned to give us some idea and as they were based on a leaked iPad shell it could be that these images are very realistic.
We have heard rumors of an iPad 5 release as early as March although more recently it has been suggested that September is a more realistic timeframe following the release of the 128GB iPad 4. We recently posted about the possibility of the next iPad having much thinner bezels making the tablet smaller and thinner than earlier versions. The mockups of the iPad 5 that CiccareseDesign have come up with certainly reflect this previous speculation and show the size of the iPad 5 and design compared to other iPad models.
These renders were commissioned by MacRumors who point out that a leaked iPad 5 backplate was used for CiccareseDesign to come up with the most accurate renders possible. One image (above) shows the iPad 5 mockup on top of the iPad 4, where the slimmer bezels can be seen and the whole iPad 5 appears narrower than its predecessor. Another image (below) shows the iPad 4 next to the iPad 5 and also the iPad mini, where we can see that the iPad 5 appears much more like the iPad mini in styling than the iPad 4.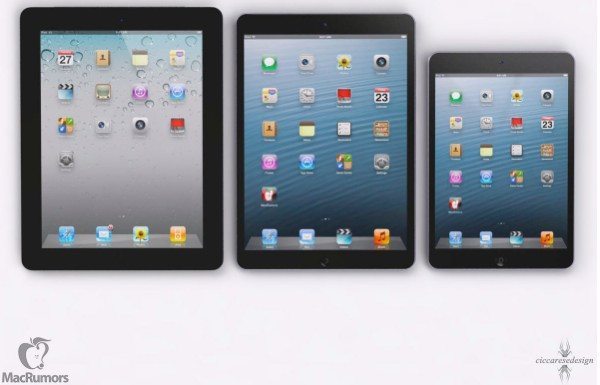 We'll point out again that these are renderings based on leaks and so we are not claiming that the images are the real deal. However Ciccarese Design has come up with many mockups of iOS devices in the past that have always been impressive and many times have turned out to be astonishingly accurate.
We'll continue to follow developments regarding the iPad 5 and in the meantime welcome your comments. Would you like the iPad 5 to look like these renderings? Maybe you have other design ideas for the next iPad that you'd like Apple to implement?