Nokia Lumia 920, 820 & 620 likely release for Mexico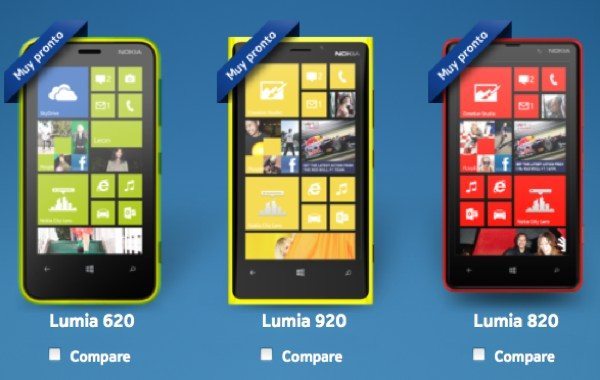 If you're in Mexico and in the market for a new phone running Windows Phone 8 then you're in for a treat as it looks as though three of the Nokia Lumia phones are heading your way. The Lumia 920, Lumia 820 and Lumia 620 are all currently making an appearance on Nokia's Mexico website and so are very likely to release there and we think it's likely that there will be plenty of buyers for these phones with their distinct Lumia styling in Mexico.
Presently the Lumia 505 in Mexico offers the Windows Phone 7.8 operating system but the 920, 820 and 620 will run Windows Phone 8. So far it seems the Nokia Lumia 920 will be launched in Mexico in April for around 10,500 pesos, equivalent to around $825 or £520. We'll give you a brief recap on some of the key specs of these three phones so you can see what each has to offer.
Starting with the pick of the bunch the Lumia 920 and this is powered by a Qualcomm MSM8960 Snapdragon dual-core processor, has a 4.5-inch IPS LCD display with resolution of 1280 x 768 and 332ppi, 1GB of RAM, 32GB of internal storage, 8-megapixel rear camera with 1080p video capture plus a 1.3-megapixel front-facing camera.
The Lumia 820 has the same processor as the 920, a 4.3-inch AMOLED display with resolution of 800 x 400 and 217ppi, 1GB of RAM and 8GB of internal storage, expandable via microSD to 64GB. There's also an 8-megapixel rear camera with 1080p video recording capability and a VGA front-facing camera.
Finally the Lumia 620 and this has a 1GHz Snapdragon S4 dual-core processor, 3.8-inch TFT display with resolution of 800 x 480 and 246ppi, 512MB of RAM and 8GB of storage, expandable to 64GB via microSD. Camera-wise it totes a 5-megapixel rear camera with 720p video capture and VGA front-facing camera.
All three cameras run Windows Phone 8 and it shouldn't be too much longer before they release in Mexico by the looks of it. We'd like to hear your thoughts on this. Are you in Mexico and pleased to see these Nokia Lumia phones heading your way? Let us have your comments on this.
Source: Nokia Mexico trans. by Google Translate