BlackBerry Z10 & Q10, user love hate relationship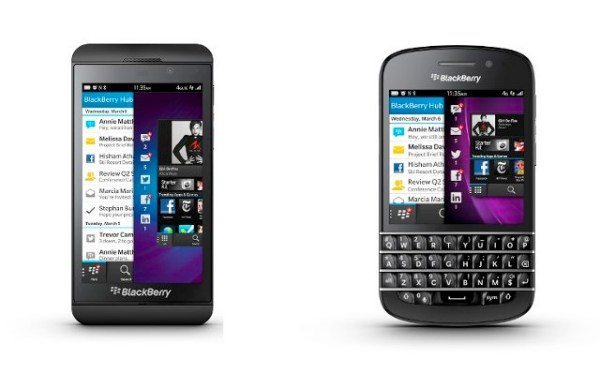 After all the recent excitement at the January 30th unveiling of the BlackBerry 10 operating system we have two new BlackBerry smartphones to consider that are both running BB10. They are the BlackBerry Z10 and Q10 and many may have a love hate relationship with these devices, especially as the first is an all-touch device while the latter features the customary QWERTY keyboard so loved by many BlackBerry device owners.
It would be good to think that people using devices on other platforms at the moment, would be open enough to at least check out one of these new BlackBerry 10 phones. However there will be many who have already decided they won't even try one of the new BlackBerry smartphones as they may be diehard Android or iOS fans. Android or iOS device enthusiasts may also not be won over by the fact that there are 'only' around 70,000 BB10 apps at present and while that's a good amount on launch that can't compete with the hundreds of thousands of Android or iOS apps available.
However there will be a huge amount of BlackBerry enthusiasts who can't wait to get their hands on the Z10 or Q10 but herein may lay a dilemma. The BlackBerry Z10 has already released in the UK and Canada and is due to release in the US next month. So if you really are eager to get your first taste of BB10 then this is available right now to many of you. There's a snag though as while the Z10 is certainly an impressive enough device it doesn't have that QWERTY keyboard. As we've already said, traditional BlackBerry device users are rather enamored with their physical keyboards but if you want BB10 with QWERTY then you'll have to wait for a while longer as BlackBerry has confirmed the BlackBerry Q10 will not release until April and even later for some regions.
So if you think you'll love a new BB10 smartphone do you grab the Z10 now or wait a few more months for the Q10? To help out we'll give you a very brief look at some of the key specs and features of these two handsets to see how they compare in other aspects.
The BlackBerry Z10 has a 1.5GHz Qualcomm Snapdragon dual-core processor, 4.2-inch capacitive touchscreen with resolution of 1280 x 768 and 355 ppi, 2GB of RAM and 16GB of internal storage, expandable via microSD to 64GB. It also has an 8-megapixel rear camera with 1080p video capture as well as a 2-megapixel front-facing camera, LTE (where applicable), NFC, and it comes in black or white color options.
Moving on to the BlackBerry Q10 and this is powered by a 1.5GHz TI OMAP dual-core processor, 3.1-inch Super AMOLED capacitive touchscreen with resolution of 720 x 720 and 328 ppi, 2GB of RAM and 16GB of internal storage, expandable to 64GB with microSD card. Other specs include an 8-megapixel rear camera, front-facing camera, and NFC. The Q10 also comes in black or white color options.
The Z10 flagship then has a larger display with higher resolution and also features LTE that the Q10 lacks. However of course the Q10 has the QWERTY keyboard and that will sway it for many existing BlackBerry device owners. We're really interested to hear your opinions on the BlackBerry Z10 and Q10.
Do you hate the idea of either or would you love to get your hands on one? If you want to purchase the Z10 or Q10, which is your preference and why? If you usually use a BlackBerry with QWERTY keyboard are you willing to switch to an all-touch device? Let us know by sending your comments.