Nexus 7 via RadioShack cheaper than Google Play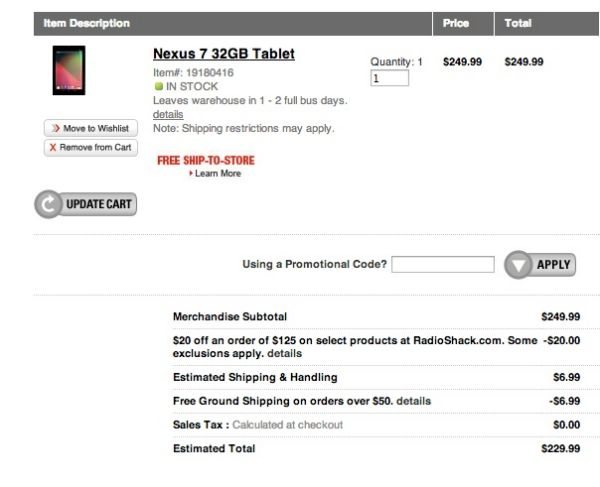 If you are still considering buying the Nexus 7 via Google Play then we suggest you think again, there is a cheaper option via RadioShack online that could save you a lot of dollars. Google Play has been the best place to purchase this tablet up until now that is; here is how you can save a few dollars.
Visit RadioShack and then add to cart, once you have gone into the shopping cart section you will see a field that says "Using a Promotional Code?" in here just enter this code is "RARMNJ1320″, you MUST type this is manually or it will not work (DO NOT copy & paste because it will not work).
Once you have done the above you will see the RadioShack price drop from $249.99 to $229, and this is a big difference compared to the price over on the Google Play Store also at RadioShack's original price of $249.99. They are also offering free delivery, Google charge around $14 for shipping, so overall it makes sense to shop with RadioShack and the above code.
The Nexus 7 for only a mere $229 is what we call "One stunning tablet with a love price tag", please do let us know if you will be taking up this RadioShack offer. You will not get it any cheaper than what you are seeing above so we say act fast because this will only run for a limited time period, hurry.