Cordy 2 iOS & Android platform game looks amazing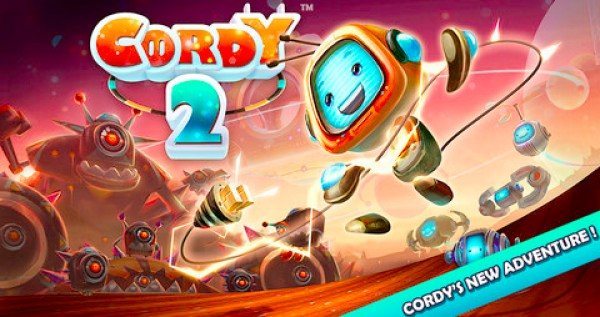 As we like to keep readers in the know about popular apps today we have some information about Cordy 2, which is now available for iOS and Android devices. This platform game looks amazing and we think many people will really enjoy it and the even better news is that Cordy 2 is a free app, although you can pay for additional gameplay. Cordy 2 follows the success of Cordy and Cordy Sky and it's not likely to be long before many of us will be finding the game addictive.
Cordy 2 from SilverTree Media is available right now in both the App Store and the Google Play Store. The graphics of the new game are great on most modern devices, running at 60fps. Although it's a lot of fun it's also multifaceted and uses on screen-controls with fluid navigation. It features the usual buttons for left, right and jump but there's an extra fourth button that only appears in certain circumstances and remains hidden for the rest of the time.
Playing the game involves being Cordy on a mission to save World 2 alongside Volt against Boogaloo's Boogie Bots and there are three separate fantasy worlds, Carnival world, Harmony harbor and Sky Factory. Allies include Magnet Bot, Smash Bot and Copter Bot and there are dozes of hats and costumes to choose from for customization and you can also earn badges for style. The download is free, as is playing the first four levels, while the full 48 levels can be played at a cost of $4.99.
Cordy 2 for Android is available from Google Play here and is compatible for devices running Android 2.2 or later. Meanwhile if you want Cordy 2 for Apple iOS devices it's available from iTunes here. It's compatible for iPhone 3GS, iPhone 4, iPhone 4S, iPhone 5, iPod touch (3rd, 4th and 5th generation) and iPad running iOS 3.2 or later and the app is optimized for iPhone 5.
We'd like to hear your thoughts on Cordy 2. Are you a fan of the previous Cordy games and looking forward to checking out the new one? Maybe you've already downloaded Cordy 2 and could share with readers what you think of the game? Let us know with your comments.