Asteroid 2012 DA14 prompts tracker and alert apps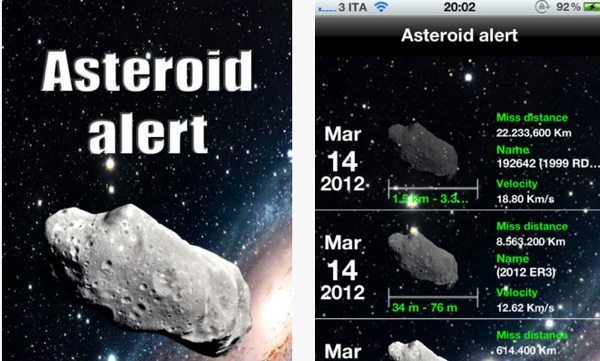 We always enjoy sharing news of Google Doodles and today if you check the Google home page you'll see a special Doodle to mark Asteroid 2012 DA14. This asteroid is set to pass Earth today (Friday) and will be closer than any other known asteroid that has skimmed the planet. This has prompted us to gather together some iOS and Android apps about asteroid tracking and alerts that you may find interesting.
Asteroid 2012 DA14 is around the size of a football field and will be 17,100 miles above us so there's no need to panic as NASA says that "no Earth impact is possible" according to the MailOnline. However there have been news reports about meteor showers hitting Russia earlier today but this is said to be unrelated to Asteroid 2012 DA14. Nevertheless Asteroid 2012 DA14 is causing a lot of interest and although you won't be able to see it with the naked eye it will be visible through binoculars. Check out our selection of asteroid apps and simply click the titles to be taken to either the App Store or Google Play for more info or to download.
The first app we have for you is an iOS app called AsteroidAlert by Gianfranco Forlino. This is a free app from iTunes and is compatible with iPhone, iPod touch and iPad running iOS 3.0 or later. The app aims to keep the user informed about all asteroids and comets that may pass close to Earth and shows names, dates, approximate diameter, distance from Earth and speed. It uses data direct from NASA and its NEO Earth Close Approaches page and has a 7.5 million km accuracy.
The next app is also an iOS app and this one is Asteroid5 by Stefano Peruzzi, another free app for iPhone, iPod touch and iPad running iOS 3.0 or later. This app tracks the next five asteroids and comets that will come close to Earth and has Near Earth Object news
Another iOS app for the iPad this time, is the Asteroids Encyclopedia from USaMau03. This app is priced at $0.99 /£0.69 and is compatible with iPads running iOS 3.2 or later. As you might expect this has plenty of information about asteroids and other spatial phenomena and covers topics such as Solar System bodies, Planetary defense, Celestial events and more.
On to some Android apps now and firstly we have the Asteroid Tracker from Dave Greenland. This is a free app and compatible with devices running Android 2.2 or later. It's a science aggregation app with tracking information from the NASA NEO program and has a high customer rating. The most recent update actually arrived today with improved NewsFeed to SpaceTracks.
There's also another free app for Android titled Asteroids and Comets from Apps Unleashed. This is for devices running Android 2.2 or later and will tell you everything you need to know about asteroids, comets and meteors. It gathers information from social channels and includes information on near misses. Again this one has just been updated and now offers 4 updated blogs.
Hopefully at least one of these apps will be just right for your needs and we think there will be many people around the world interested in this subject, especially today. Let us know if you can recommend any other asteroid apps that you've found particularly good by sending us your comments.