The Harlem Shake Dance craze via Android apps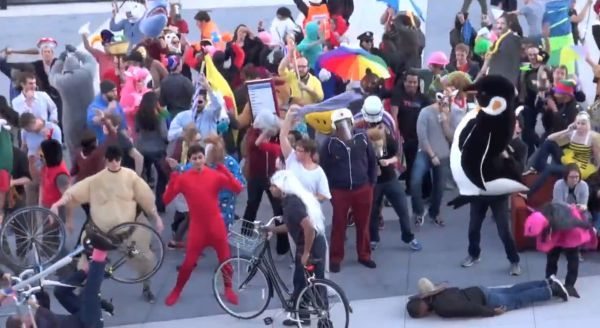 The Harlem Shake is a massive craze at the moment and has gone viral on YouTube with millions uploading their videos to show of their dance moves. We have found three Harlem Shake Android apps that you may like, but first "What is the Harlem Shake?" just in case you are wondering.
Everyone should know what the Harlem Shake is by now and it is just overly popular online, but for those that are not too sure it is a style of dance where people have to pivot their shoulder out whilst pushing the other shoulder out but both at the same time. This craze started way back in 1981 by a man called Al Bm who residing in Harlem, New York City, the Harlem Shake was first known as as "albee" after his name.
Nowadays the Harlem Shake is a Hip Hop dance craze and a title of a popular 2012 heavy bass instrumental track produced by Baauer and then this year it is all about a group of people doing the dance all at once and then uploading the video, oh yes its all gone viral.
Anyway, here are the apps if you are into the Harlem Shake dance craze —
The first app is called "Hip Hop Dance w/ Harlem Shake" by Mahalo and contains one of the largest video libraries of popular dance moves, and yes this app contains the Harlem Shake and the original one at that. This app has many features such as building your confidence to be the first on the dance floor, the ability to impress everyone by doing the Dougie, Jerk and Cat Daddy, as well as unique flavor and flair to develop your own style of hip hop. This app has a lot to offer and has the perfect step-by-step tutorial — for more information please install via Google Play.
Sitrusy Inc calls the second Android app "Harlem Shake Guide" and this one has everything you need to start your own crazy new viral dance craze aka "The Harlem Shake" let's get it on. This app contains resources and explains how you to make your first Harlem Shake video with your friends etc, the app also features the how-to guide for learning the Harlem Shake, videos of the best Harlem Shakes around the world and resources for creating your own Harlem Shake video. Install right here via Google Play and get your thing on.
The last app is "Harlem Shake ULTRA Arei Kuen" and we like this one because it allows the user to make their phone do the Harlem Shake when a call comes in. Main features include Harlem shake ringtone, notification, flash effects, vibration, collection of 80+ Harlem shake videos, random video button and a few other bits. Get it now via Google Play.
Please watch some of the videos below this article, this is the Harlem Shake gone viral across the world. Have you done the Harlem Shake dance yet?