Google Play birthday celebrations with free & discounted games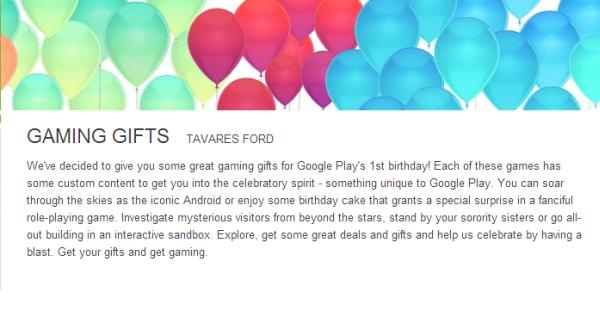 While many may argue that the Apple App Store is still ahead of the competition with regards to content and layout, Google responded last year by giving its app store a nice new makeover, and to celebrate the Play Stores birthday the company is running a number of promotions that include free and discounted games as part of the celebration.
The Google Play Store celebrates its first birthday today, and it doesn't seem that long ago that Google introduced the world to its all new Market app store. There are a number of different promotions that the search engine giant is running that includes some free and discounted games.
Games such as The Sims, Disney's Gnome Village, The Sandbox, Tiny Castle, Monster Pet Shop, and many more are available free, while a number of other titles such as Need for Speed: Most Wanted, and Plants vs Zombies are being offered at discounted prices.
The company is not just stopping at apps though as it is offering a number of deals across content available on the Google Play Store for its first birthday, which includes money off books, movie rentals, and much more.
Google's promotion will be running for a full week and content will vary country to country, but we all like to get a good deal or something for nothing, so to find out what's on offer in your region head over to Google Play and get downloading.
Have you already taken advantage of the Google Play deals?