Pou app update for Android & iOS brings more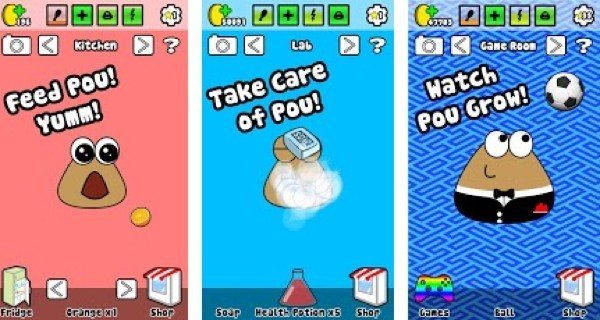 At Phones Review as well as devices we also like to bring you details of popular mobile apps and one in the news at the moment is the Pou app. Pou is reminiscent of the Tamagotchi craze and users of the pet will soon find themselves wrapped up in taking care of it, feeding it and cleaning it. The Pou app is available for both the Android and iOS platforms and we have further details below so read on for more.
Pou is a virtual pet and the app has various objectives. Users can play games in order to earn coins to clothe and feed Pou, try experimenting in the lab and also can dress their Pou's with different clothing, glasses and hats, to customize them. The Android Pou app is free and compatible with devices running Android 1.6 or later. It has just been updated to version 1.2.14 and the update brings new achievements, a Match Tap & Color Tap game, breakfast food, Afro wig, more desserts and phone colors, guestbook messages, new sweets and more. Also if you log out you simply need to enter the same email to play with the same Pou again.
Although the Android Pou app is free the iOS app is not and is priced at $1.99. The iOS app is compatible with iPhone 3GS, iPhone 4, iPhone 4S, iPhone 5, iPod touch (3rd, 4th & 5th generation) and iPad running iOS 5.0 or later and has been optimized for iPhone 5. This app has just been updated to 1.2.14 bringing many of the same additions as the Android app. To see more information or to download and install the Android Pou app head to Google Play here. Alternatively to download and install the iOS app head to iTunes here.
We'd like to know what you think of the Pou app if you already have it? Would you recommend it to other readers? Maybe you're heading to Google Play or the App Store to download it right now? Let us know by sending your comments.