Happy St. Patrick's Day greetings with justWink card app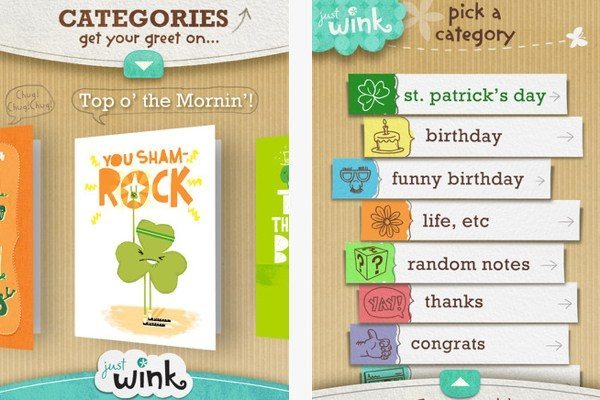 We're very close now to St. Patrick's Day, which takes place on Sunday March 17 and there are plenty of mobile apps that will help you to get the best out of the occasion. As well as corned beef and cabbage and drinking copious amounts of a certain alcoholic beverage many of us like to get in touch with family and friends with St. Patrick's Day greetings and we have details of the justWink app for Android and iOS that will help you do just that.
JustWink is a digital greetings card site and the justWink Greetings Cards app comes from American Greetings. The app allows mobile users to send real-time greetings and users have a choice of 16 greetings cards specifically for St. Patrick's Day. The greetings can then be sent by text, Facebook, Twitter, email or even real mail. There's a wide choice of sincere, humorous and other kinds of greetings and it's possible for users to add photos to the cards.
Of course once St. Patrick's Day is over there are still hundreds of cards available on the app for other occasions. The iOS justWink app is free and compatible with iPhone, iPod touch and iPad running iOS 5.0 or later. You must be 17-years-old or over to download the app. Meanwhile the Android app is also free and compatible with Android devices running 2.1 or later. If you want more information or to download the iOS app then you can do so at iTunes here. Alternatively for the Android justWink app head to Google Play here.
We'd like to hear your thoughts on the greetings available for St. Patrick's Day and what you think of the app in general? Will you be downloading the justWink Greetings Cads app from Google Play or the App Store? Let us know with your comments.