Top 5 Samsung Galaxy S4 Accessories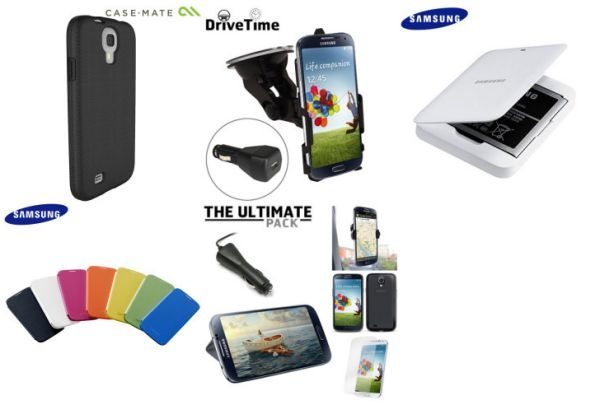 Good morning everyone! Today we'll be looking at some of the best accessories for the Galaxy S4. Samsung have done really well this time around to come up with some nice first-party options, but third party manufacturers have stepped up their game too and the result is an already verdant accessory ecosystem for the S4. Let's take a look!
5. DriveTime Adjustable Car Kit
This is the all-in-one solution for using the Galaxy S4 in your car. The DriveTime car holder is a highly adjustable windscreen or dashboard mounting system, allowing landscape or portrait orientation and everything in between. The kit also includes a micro USB car charger, allowing you to keep your phone fully charged while you're on the go.
4. Case-Mate Tough Case for Galaxy S4
The Case-Mate Tough Case is, as the name suggests, one of the most durable and protective cases available for the Samsung Galaxy S4 at the moment. As well as offering a good amount of protection from scratches, the Tough Case can boast good impact resistance thanks to its unique layered design.
3. Genuine Samsung Extra Battery Kit
This Samsung-made extra Galaxy S4 battery kit is plenty useful. It includes a spare battery for the S4, allowing you to potentially double your battery life at a very low cost. The kit also includes a battery charger, so you can easily charge both phone and spare battery at once, ensuring that you'll be ready to take on the new day with both fully charged.
2. Genuine Samsung Galaxy S4 Flip Cover
This flip cover was incredibly popular for the Galaxy S3, as it offered a convincing blend of screen protection and a dramatically small footprint. This is achieved through replacing the rear cover of the original S4 with a new, more durable version that also has a flip cover attached. In this way, you're replacing instead of adding to the bulk of the phone. That flip cover ensures screen protection whenever your phone isn't being used, like in your pocket or purse. The Flip Cover is available in a wide range of colours too, ensuring that you can choose one to fit your own style.
1. Ultimate Samsung Galaxy S4 Accessory Pack
If you're not sure what you'll need for the S4, why not get it all? The S4 Ultimate Pack contains everything you need to use your Galaxy S4 to the fullest, including protective items like screen protectors and a case, handy portable and desk stands, as well as a car charger and holder. The Ultimate Pack makes a good gift pack, too.
What Samsung Galaxy S4 accessory above do you like the most?