HTC One is top banana for Web browsing battery endurance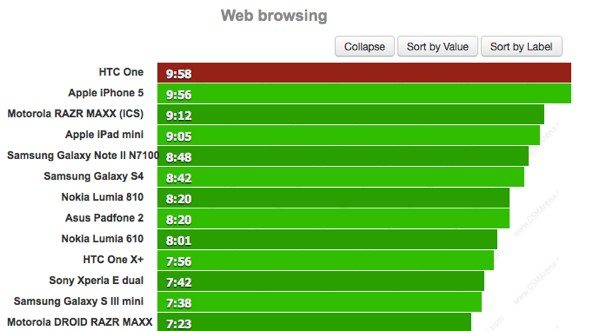 The HTC One is a smartphone that seems to have everybody talking and considering its sleek looks and build plus top-notch specs that is hardly surprising. It has just released in the UK and is making its way to further regions such as the US for later in April and if you wanted any more reasons why this would be a great smartphone to purchase then the HTC One has just been named top banana in third party battery endurance tests for Web browsing.
The HTC One is powered by a 1.7GHz Qualcomm Snapdragon 600 quad-core processor and has a 4.7-inch Super LCD3 display with full HD resolution. The battery with this phone is a non-removable 2300 mAh battery, which might not sound too brilliant seeing as it's a) non-removable and b) it's only 2300 mAh compared to 2600 mAh of the Samsung Galaxy S4 or the whopping 3300 mAh battery of the Motorola Droid Razr Maxx for example.
However numbers are not always everything and this seems to be particularly pertinent with the third party battery tests that have just been carried out and found that the HTC One offers the best web browsing endurance. In Web browsing the HTC One managed nearly 10 hours, outstripping other phones such as the iPhone 5 with just two minutes less, the Motorola Razr Maxx on 9 hours and 12 minutes and then the Apple iPad mini on 9 hours and give minutes. The Samsung Galaxy S4, probably the HTC One's closest rival managed 8 hours 42 minutes.
For video playback, again the HTC One scored well and was in 8th position with over 10 hours of video play duration, coping around as well as the Samsung Galaxy S4 and S3 and the Phone 5. However above all of these were the Motorola Razr Maxx, Droid Razr Maxx, iPad mini, Samsung Galaxy Premier and Samsung Galaxy Note 2, the Razr Maxx managing over 16 hours of video playback.
For 3G talk time the HTC One managed 12th spot, still well up the charts of phone tested and managed to get very close to the Samsung Galaxy S4 here with over 13 hours and 38 minutes of use compared to the S4's 13 hours and 53 minutes. The Motorola Razr Maxx took top slot here and managed a whopping 21 hours and 18 minutes followed by the LG Optimus G Pro on 20 hours 45 minutes.
There was only one area where the HTC One didn't fare well at all though and that was standby time where it managed 48 hours. It seems a leakage problem was discovered but of course it's likely this will be fixed with a firmware update. However this did stop the HTC One possibly getting a record overall score.
It's good to know that for Web browsing the HTC One scored best of all the smartphones in the test and was a on a similar par to most of its main competitors in other areas. Certainly if you are a smartphone user that mainly uses their device for Web browsing then the HTC One could be a wise choice.
We're interested to know what you think of these battery endurance tests. Does it surprise you that the HTC One was the top of the pile for Web browsing? Maybe you're concerned that standby time was less than impressive. Let us have your comments on this.
Source: GSMArena