Samsung Galaxy Mega 5.8 & Mega 6.3 smartphones not Fonblets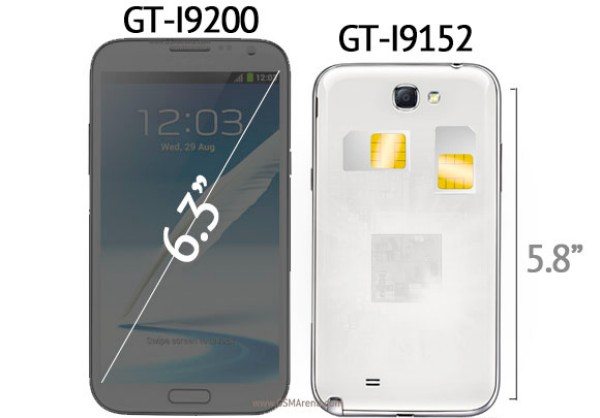 Regular readers with their eyes keenly on Samsung news may recall stories about a Samsung Galaxy Fonblet device way back in January. We heard that this device would have a 5.8-inch display and wondered if Samsung wasn't getting a bit too obsessed with large-screened devices and if the company would know when to stop. We now hear that the Fonblet tag has been dropped but the device is now the Samsung Galaxy Mega 5.8 and now Samsung has even gone a step further with the Galaxy Mega 6.3 smartphone.
Now we do wonder where this will all stop. Many of you have heard of a 'phablet,' a term coined to describe a device halfway between a phone and a tablet because of its large display, such as the Samsung Galaxy Note 2. But seriously, although these two 'Mega' devices are being billed as smartphones (not Fonblets!) aren't they more like small tablets, especially the Mega 6.3, and can anyone imagine walking around with a 6.3-inch smartphone glued to their ear.
The Galaxy Mega 5.8 and Mega 6.3 are even following Samsung tablet naming tradition with the size of the display in the titles and the Mega 5.8 is model number GT-i9152 while the Mega 6.3 is model number GT-i9200. The model number for the Mega 5.8 (ending in a 2) suggests that this one will be a dual-SIM handset.
The word is that the Samsung Galaxy Mega 5.8 will release around week 22, that week begins on May 27 and the phone will come in white. The larger Mega 6.3 will be in black and white and is set to release around week 25 or the week beginning June 17. We'd really like to hear what you think about these two devices although we should point out that Samsung itself has confirmed none of this yet, although it does come from an often-reliable source.
Does the sound of these even larger Samsung smartphones appeal to you? Do we really need smartphones with even bigger displays from Samsung, after all we already have the Galaxy Note 2? Let us have your comments on the Samsung Galaxy Mega 5.8 and 6.3.
Source: SamMobile
Via: GSM Arena