Asus Transformer Pad Infinity starts receiving Jelly Bean 4.2 update today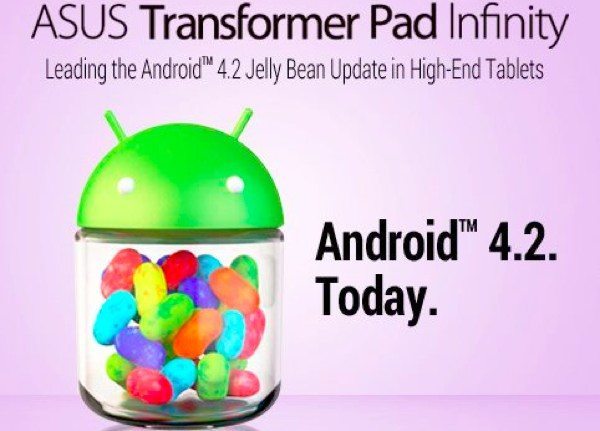 We always attempt to keep our readers informed about updated operating systems for the many devices out there and today it's the turn of those who have the Asus Transformer Pad Infinity. The tablet has started receiving the Android 4.2 Jelly Bean update from today, which should please a lot of Transformer Infinity owners.
Asus announced the move officially today on its Facebook page and Jelly Bean 4.2 will bring some great benefits to your tablet such as enhanced notifications, system toggles, multiple user options and much, much more. The Facebook announcement simply shows the words Asus Transformer Pad Infinity with the following line beneath, "Leading the Android 4.2 Jelly Bean Update in High-End Tablets," and then in bold letters "Android 4.2 Today."
However we couldn't help noticing that although of course Transformer Pad Infinity users will be pleased there are a multitude of other comments from other Asus device owners on the Asus Facebook page, who are pretty miffed that the update hasn't yet come to their tablets.
If you have the Transformer Pad Infinity we'd urge you to keep checking throughout the day for your update to be rolled out. Bear in mind though that although the rollout starts today it may take sometime before everyone receives notification of the update so you may have to practice a little patience.
We'd really like to hear from readers who have the Asus Transformer Pad Infinity when they receive the Jelly Bean 4.2 update. It's always good to let other readers know when people actually receive the rollout so do send us your comments.