Nokia Lumia 720 at O2 UK, contract & non-contract price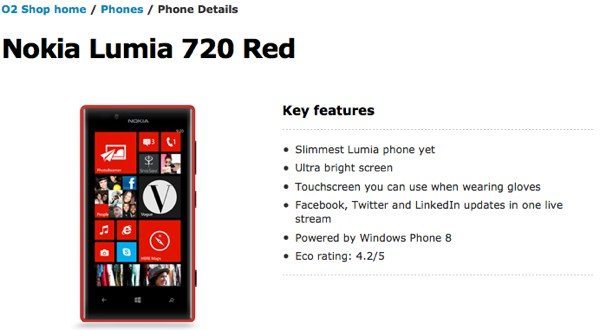 Those who are in the UK and looking for a decent mid-range smartphone with a competitive price may want to consider the Nokia Lumia 720 smartphone. This Windows Phone 8 handset will release in just a few days time and O2 is carrying the red or black color options. We have details ahead of contract and non-contract pricing for the Nokia Lumia 720 on O2.
The Nokia Lumia 720 is a lesser version of the Lumia 820 and although it may not be so powerful it has plenty to recommend it, plus it has that unique Lumia styling that many people admire. If you want to purchase the Lumia 720 on O2 with the usual two-year contract then it comes as low as free for the handset and then £22.00 monthly. Plenty of alternative plans are available with various pricing.
If you'd rather purchase the phone off-contract with Pay & Go then the Nokia Lumia 720 will cost you £299.99 from O2, which we think is actually pretty reasonable for this device. Although we were informed that the phone would be shipped from April 8 on O2, on the product page it actually says 'in stock' but that may be a mistake. You can see details of the red Nokia Lumia 720 on O2 on Pay & Go or Pay Monthly at this page. Please note this is for the red option which is exclusive to O2 in the UK but that O2 is aso selling the black variant.
As a quick recap on specs we'll remind you that the Lumia 720 is powered by a 1GHz dual-core processor, 4.3-inch display, 512MB of RAM and 8GB of internal storage, expandable via microSD. It also has a 6.7-megapixel camera with Carl Zeiss optics, a 2000 mAh battery, Bluetooth 3.0, Wi-Fi 802.11 b/g/n. The dimensions of the Lumia 720 are 127.9mm x 67.5mm x 9.0mm and it weighs 128g.
We'd like to know if you're interested in the Nokia Lumia 720 from O2? Do you think the pricing is reasonable for this mid-range handset? Let us know with your comments.