Top 5 stylish Samsung Galaxy S4 cases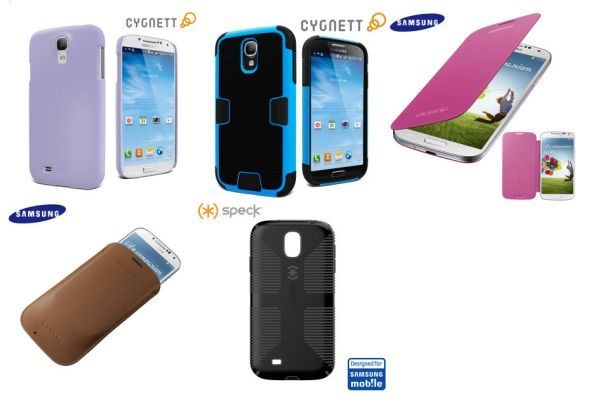 Today we'll be looking at five of the most stylish cases announced so far for the upcoming Samsung Galaxy S4. Please do have a read below and let us know what one you prefer, thanks and have fun.
5. Genuine Samsung Leather Pouch
This beautiful real leather pouch is perhaps the most professional of the first-party Samsung accessories. The case's pouch form factor ensures full protection of the vulnerable screen when the phone isn't in use, while allowing full access when the phone's in your hands. The soft feel and slim design of this leather pouch really set it apart from other professional options.
4. Cygnett Feel PC Case
Speaking of feel… here's the Cyngett Feel PC case. The case comes in a range of pastel colours, including lilac, mint and fairy floss, as well as more traditional black and grey. The polycarbonate case is ultraslim, protecting the rear and sides of the Galaxy S4 while adding minimal bulk. This does mean that there isn't much of a lip around the screen, so a Galaxy S4 screen protector could work well here.
3. Speck CandyShell Grip
This is one of the more protective options for the Galaxy S4 that remains stylish. The case has a nice ridged texture, which makes your phone easy to grip, as well as a two-layer construction. This is formed of an impact resistant plastic shell with an inner layer of rubberised material, allowing for impressive levels of scratch and impact resistance.
2. Genuine Samsung Flip Cover
This is definitely the overall nicest first-party option and it should prove as popular as it did for the Galaxy S3. The Flip Cover replaces the back of the phone with a more durable version, as well as adding the titular flip cover. This cover is excellent for protecting the screen when it's not in use. This case is also available in the widest range of colours of any Samsung Galaxy S4 case on the market.
1. Cygnett WorkMate Case
I've covered this case before for the Mobile Fun blog, and I still really like the look and feel of it. While there are some more traditional colour options available, I really like the Tron look of the blue and orange options. A protective and stylish case that looks futuristic – what's not to like?
Conclusion
Hope these selections were useful! Thanks for reading and have a good day.